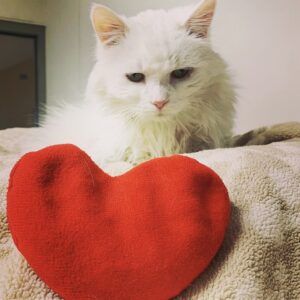 Happy Valentine's Day, Friends of Faye!
Well, friends, it seems as though winter is truly upon us . . . sort of. As I sit here at my computer composing this month's update, I find myself looking out the window into a picturesque 60-degree, sun-shiny afternoon, while awaiting tomorrow's forecasted snowstorm. Poised between polarities, I'm reminded that the weather is not the only recent event that has people undecided. The arrival of Valentine's Day once again reveals the many folks who lean in to cupid's arrow—those whose hearts are all aflutter with candy hearts and paper flowers, romantic comedies, candlelit dinners, and bottles of rosé—and those, like Faye, who wake up and choose violence.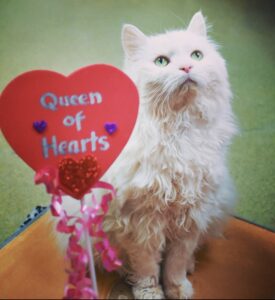 Before the fur starts flying, allow me to explain by way of some Gen Z translation. According to my college freshman students, to "wake up and choose violence" refers to a person who can be particularly temperamental, unpredictable, and chaotic. Did you know, for example, that despite Faye's polished poise throughout her recent photoshoots at Tabby's Place, our vet team has noted that she responds with "ninja-like reactions" when they attempt to examine her if she doesn't want to be bothered? Did you know, for example, that she reportedly went from a full, peaceful sleep to a swinging and swatting banshee in the blink of an eye? Did you know, for example, that despite her age and Disney-princess aesthetic that she is still feisty? Well, friends, all you have read here is true. While she has been in generally good health and spirits this month, sometimes, nevertheless, Faye wakes up and chooses violence.
While you may not be able to tell from the resting floof face in some of her photos, Faye has a heart full of love this month. Not only does she know that here at Tabby's Place, she will always be one of our forever Valentines, but also she has you—wonderful, stupendous, amazing, generous you! She spends all her days wrapped in abundant love—love that comes from our staff, our veterinary team, our volunteers, and from her friends near and far. In fact, there's so much love in the air here at Tabby's Place, that Faye would like to share the news of a wonderful addition (literally!) to our sanctuary, Quinn's Corner!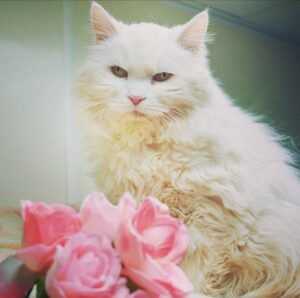 Quinn's Corner will provide sanctuary, love, and medical care for the most vulnerable kitties in the world—cats diagnosed with feline leukemia virus AND neonatal kittens. Feline leukemia virus (FeLV) is difficult to diagnose and manage and requires a high level of individualized care. Few shelters have the resources to embrace FeLV+ cats, but Tabby's Place knows these amazing kitties are full of life and deserve a chance to thrive. Newborns often arrive without their mothers, making them utterly dependent on our love and expert care. Quinn's Corner will allow us to care for these tiny wonders, who are underserved by rescue and veterinary communities due to their fragile nature and need for intense nurture.
We are, as ever, humbled by—and grateful for—all the love that surrounds us, today and every day. Faye sends you all her love and hopes that you are finding love and beauty in all your days.
Happy Valentine's Day to you, from both me and your best friend Faye. We'll talk again soon, friends . . .
Your correspondent,
Beth