Happy New Year, Friends of Faye!
Raise your hand (or paw) if you make New Year's resolutions? To start a new diet, to actually get on that Peloton, to read more books, to worry less, to stop checking your email first thing in the morning, to practice more self-care . . .
Rebellious suggestion, friends: Let's NOT do that this year!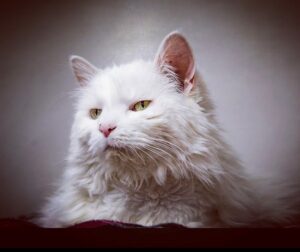 Poet Catherine Davis once wrote:
"I will not, though I would, resolve,
As the New Year's Eve comes on,
To do, not do, review, revolve
On the past year, how it has gone . . .
. . . I would no more, as I have done,
Consider what the year will bring
But take the seasons one by one . . ."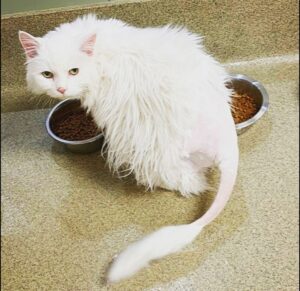 Cats, as a rule, do not make resolutions. Faye, for example, cherishes herself all the same every single day. She doesn't resolve to spend more time grooming her fur. She just revels in the warmth of the glorious white floof that keeps her snuggly all winter. She never resolves to spend more time outdoors. She embraces each sunny Spring day in the solarium as it arrives. She doesn't resolve to watch her diet. She asks for treats when she feels like treating herself!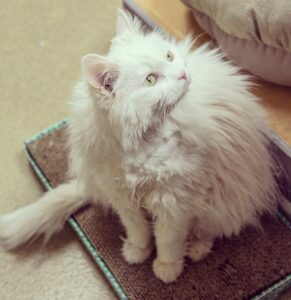 Why can't we just embrace the days as they come, for exactly what they bring? Some will be blessed, some will be stressed. Some will bring abundant sunshine, some will aggressively thunder. Some will bring small miracles, some will make us curl up in a ball and hide under our blankets. Some will offer abundant joy and delight, some will just be filled with laundry. Some will end with pizza, some will end with Pepto. But let's resolve to be present through all of them. Let's not find things to change about ourselves and instead appreciate the selves that have brought us through every one of our many days so far. Let's start a revolution of self-love and appreciation. Let's all be more like Faye.
This month, Faye has been enjoying good health, save for a slight goopy-eye issue for which she receives eye meds multiple times each day. Honestly, she's not a fan, but then again, who enjoys having drops put in their eyes? I do hear, though, that these daily meds are often accompanied with treats for good behavior, so there's that!
Also, in keeping with the self-love and appreciation, Faye isn't at all embarrassed by her most recent makeover. She's pretty fluffy, and sometimes those floofs turn into knots. Faye found herself becoming matted. Our wonderful staff determined that the only safe way to get her un-matted was to shave her, but she only tolerated so much of that. So, her back end is shaved, but her front end is full and fluffy. It's okay: you may laugh a little when you see her picture! She won't mind!
Faye sends you love and positive energy, and she thanks you for your friendship and generosity! Thank you for being part of her journey, today and through all the seasons of the year. We'll talk again soon, friends . . .
Your Correspondent,
Beth
(p.s. see Faye in 'active' mode in the video below!)