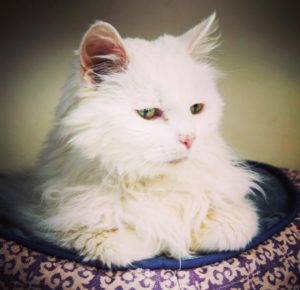 Happy October, Friends of Faye!
The arrival of autumn comes with many wonderful things: apple picking, falling leaves, sweater weather, trick-or-treating, Jack-o-lantern carving, to name a few. And then, there's the darker side of another autumn—the one that comes with dry skin, allergies, flu shots, and, of course, the common cold.
Faye is deep into dark autumn, having developed an upper respiratory infection earlier in the month. Don't worry though, friends, our stellar medical team started her on liquid antibiotics, to which Faye responded beautifully. Her sniffly, snuffly nose cleared up, and she's back-on-her-paws just in time to start shopping for Halloween costumes.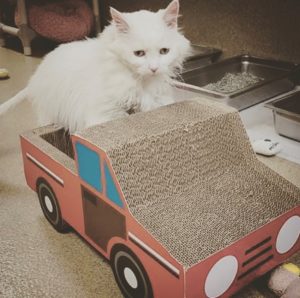 So far, she's considering going as high-class debutant Marie from Disney's Aristocats or your friendly working-class Uber driver. Or, she may just go as her glamorous, fabulous self. Which one would you pick?
Faye and I hope you are all enjoying a happy, healthy October and that you're finding some joy as we enter into a colder, more colorful season. Faye wanted to thank you especially this month for your support. Thanks to your loving generosity, we were able to provide Faye with optimal medical care as soon as she needed it! Friends like you help us do what we do for cats like Faye!
We wish you a beautiful month! May all your cardigans be cozy and all your lattes be pumpkin-spiced. We'll talk again soon, friends!
Your correspondent,
Beth