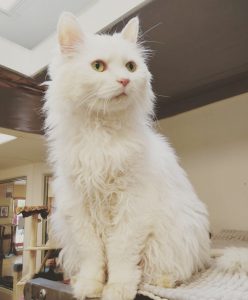 Happy August, Friends of Faye!
Faye and I hope this end-of-summer update finds you all . . .
Wait. Pause. Start Over. As we near the end of the summer, we also grow ever closer to the start of a new school year and trust me, friends, as a professor, I'm getting no shortage of emails that open with good wishes and the hope that "this message finds you doing well and that you've had a restful and productive summer." What if my summer hasn't been particularly "restful" or "productive," hmmm? What if my summer has been average with intermittent bursts of optimism tempered with anxiety and angst? What if sometimes I'm so decidedly not "productive" that Netflix actually checks to make sure I'm *really* watching a fifth consecutive episode of Riverdale? What if I'm falling short or, more likely, falling asleep?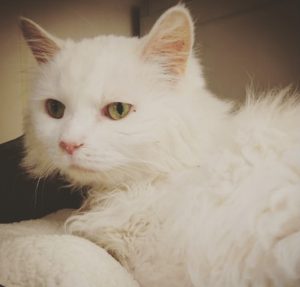 Well, friends, Faye and I are here to tell you that every single thing you're doing and feeling is the absolute best thing you could be doing at that moment. And if sometimes you're feeling a little different-than-you-used-to-feel, we're here for that vibe, too. Case in point: Faye. Now, we're pretty close friends, so we can talk about Faye's history of inappropriate elimination—a very technical euphemism for the fact that sometimes, well, Faye just doesn't use her litter box as intended.
Well, this month, a staff member witnessed her using her litter box! Faye was given much praise, but everyone joked that this uncharacteristic behavior might mean that maybe something was wrong!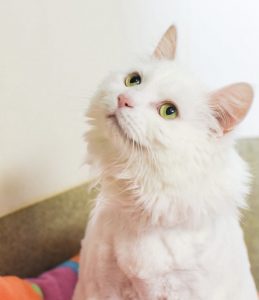 Rest assured, friends, that Faye is happy and in good health. But her little out-of-character and very much in-public "display" was a bit of a head-scratcher for many. I think, though, that Faye, like so many of us, is just doing the best she can, whenever she can. And if she zigs when the world zags—or does something wonderfully unexpected—let's not linger too long on the hows and whys and just give her, and ourselves, permission to be. To be bold, to be scared, to change, to stomp our feet and resist change, to nap when we're exhausted, to laugh outrageously when we're amused, to not worry about being "productive," and to just meet each day that we find ourselves in this strange and wonderful world exactly as we are.
Faye sends you love and positive energy as we bid farewell to the dog days of summer and gear up for September. We hope that wherever you are—and whatever you're doing this month—that this update finds you exactly where you need to be. We love you, and we'll talk again soon, friends . . .
Your correspondent,
Beth