Greetings to You and to All of Boobalah's friends,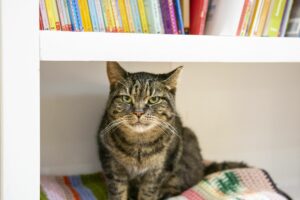 'Tis the season for all things warm, cozy, and cuddly. It's a time for chasing sunlit spaces around the room, snuggling with fur babies, and doing all the things that give us and our fur babies comfort. It's the time to nourish our souls, open our eyes and arms, and let love into our lives. Boobalah embraces every day and every person with gusto, living life to the fullest.
There is so much going on these days at Tabby's Place, with the expansion and all of the work to transition to it and to get everything up and running. But still, there is time to celebrate love. There is always time to celebrate love. One of Boobalah's Lobby mates was the lucky recipient of her very own Valentine's Day photo shoot. I think she has some natural talent there, don't you? We need to see more of Valerie strutting her stuff!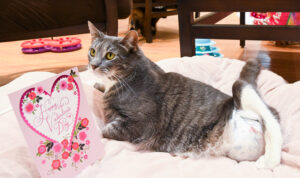 Our expansion for FeLV+ cats (cats diagnosed with feline leukemia), Quinn's Corner, will be officially opening later in the year. We are slowly starting to move some kitties into the space, and have already had a miracle! Miriel, one of the first kitties moved into the new space, has been adopted. She is a sweet and gentle soul and has been adopted into the home of her dreams. We can only hope that this is the start of many more miracles to come.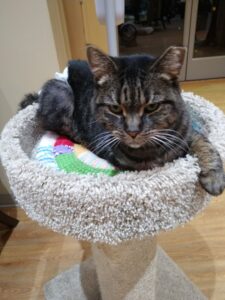 Medically, it's been a bit of a busy month for Boobalah. She was noted to have some coughing so we're keeping a close eye on her. Her urinary tract infection (UTI) cleared up, only to reoccur again, putting her back on antibiotics.  She lost a bit of weight at the beginning of the month, but her bloodwork looked good aside from a low potassium level for which she is on medication. Also, Boobalah is having very loose stools, so we are trying a dietary adjustment overnight.
Thanks to you, dear sponsors, we are able to give Boobalah all the care that she needs. We wish you a fabulous February and look forward to bringing you all the news from Boobalah's corner of the world next month.
Your correspondent,
Donna