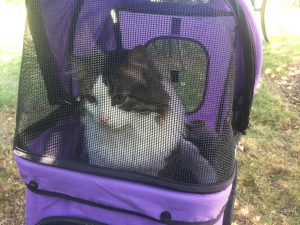 Hello dear friends,
I'm elated to spend so much time outdoors taking stroller rides and hanging out in my outdoor pen with our amazing volunteers. Whoever thought up this Curbside Volunteering program is a genius in my book!
It has been a hot and steamy summer here in New Jersey, so the time outside isn't always long, but it's always fun and appreciated. I even got to catch and eat a bug recently (see the video below for the action).
My indoor pen continues to be a draw for new and curious Tabby's Place lobby residents. Hobo, our newest guy, recently paid me a visit by jumping into my luxury accommodations. Surprisingly, there was no drama and we seemed to do okay. Maybe it's all the extra stimulation and exercise I'm getting.
Speaking of stimulation and exercise, I've saved the best news for last: I have my very own mobility cart! That's like having legs with wheels. I was fast before with no wheels, but now I'm like lightning. It is SO much fun. It took a while to get used to (see the video to see me trying out my new cart, lol). I wasn't exactly cooperative during the fitting and adjusting process, but now that I understand what that was all about, I'm a very happy camper.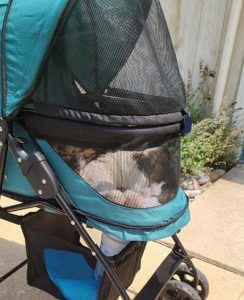 Cotton got his own mobility cart, too. Maybe I can race him across the lobby. He's a fast, little cream puff, but I'm big and strong, so I should be able to beat him easily. (Confidence is not something I lack.)
I hope you're staying cool, safe, and happy, and enjoying the longer summer days. Sending you so much love for all your amazing support.
XOXO,
Anka
(With help from your correspondent, Mary)