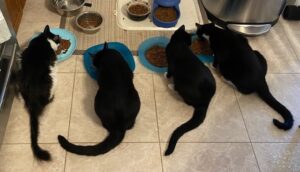 Happy December, dear hearts.
How are your hearts doing, here in 2022's final embers?
Does everything feel extremely enormous?
Is the holiday season hauling and hurling your heart like a snowball?
Do you find yourself sentimental over scented candles and stuffed snowmen and the overstuffed memories that crowd Decembers like carols?
Good. You've come to the right place. Cats are fearless about feeling it all, and no cat feels more fully than a feral.
You, dear TNR Fund sponsors, know what I mean. The cats you cherish — the cats most people don't even see — are the cats whose very spirits can smell snow. Eking out an existence outdoors, they've learned to look for angels with Fancy Feast cans, Santas with Temptations tubs, and miracles on two legs.
And in the firelight of your love, they've found all of the above.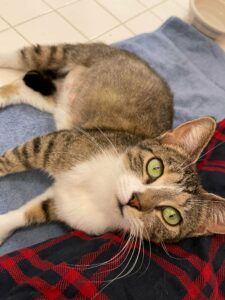 We need only flip through the pages of the Storybook of 2022 to remember.
You found four FeLV+ brothers, forgotten and hungry, and turned them into the darling Dublin Dudes of Tabby's Place. They survived their scary diagnosis; they grew like giddy elves; they defied their disease in deluges of delight; and then, at last, improbably, "impossibly," they were adopted. All four. Together.
You adored Aspen, heavy-hearted and heavy with kittens. You adored her simply because she was a cat, and simply because she needed you. Somehow that "math" added up to a mountain of mercies. Aspen and her kittens came in from the cold, soon to be chosen by families all their own. Once again, you led the lonely to love's table.
You opened your eyes to Peekaboo, the pain-stricken mother who would give her last breath for her babies. She was given many more breaths, and hopes, and stories yet to savor, because you chose to see her. She sent her kittens forth in joy; we sent her to sweet safety; and the only reminder of the fearful years was her charming, crooked, cleft-palate smile. She's smiling it for you even today.
You made way for Magellan and Ponce, groovy gingerbread men from two separate colonies, with two separate scaries (FIV and FeLV). They became the two best friends who ever shared a summer. Poncey thrives on, arguably the prince of Tabby's Place (a title he generously shares with 99 other residents). Magellan has sailed across the final sea, leaving us tearful but grateful that he finished his voyage as a cherished king.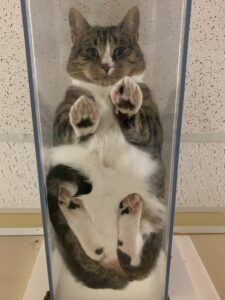 You plucked persnickety cats from the far margins of the world — a prison, of all places — and loved them as though they were the center of the world. Muffin, Chicken Nugget, Taylor Ham, Habanero, and Poblano made the improbable, "impossible" journey from fear to mercy.
All because your love is a fire that burns away "impossibles."
And here we stand, together, feeling all our feelings, holding onto each other's arms and paws, on the edge of a year that just might possibly be the best ever (we're lookin' at you, 2023). Possibilities are purring in all directions.
Right now, that means the Prison Pack of cats is Christmasing with wonder. Warm and wonderstruck, they're "home" in ways they never dreamed possible. We're Santa Clausing them with daily deliveries of devotion, medical care, and the all-season promise of unconditional love.
It means that shivering small elves are still filling our shelves, long after kitten season was "supposed to" shut its doors for the season. To make matters more improbable, the sugar cookies we're calling Nat, Shoresy, and Sanguinet were born at a colony that was "supposed to" be "finished," as in "fully neutered." But as you know, there are few "supposed to's" when it comes to cats, and even fewer when it comes to love. So here we are, loving three gingersnaps at this late hour.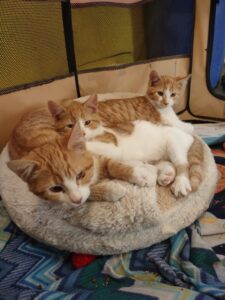 Perhaps the hour is always late, and the holiday season only helps us to be honest.
Perhaps "impossible" is always a lie, and Tabby's Place is just outrageous enough to call its bluff.
Perhaps 2023 will bring more love and friends and mercies and mysteries than we dare to dream of.
Certainly that will be the case.
And all because, from baby New Year through December's final embers, you choose to stand by the cats.
I'm grateful from the curl of my elf shoes to the pompom on my Santa hat to stand here with you.
I love you.
So do 100+ cats.
Thank you from the depths of my heart, dearest sponsors.
With wonder and gratitude,
your sentimental scribe,
Angela