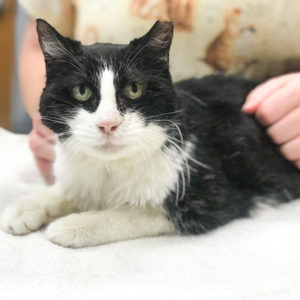 Happy June, community cat champs!
I hope this update finds you feeling well in body and spirit. As the world timidly reopens like a tender bud, I wish you every sort of blossoming joy.
"Joy" is the order of the day for some of our free-roaming friends, thanks to you. I'm especially elated to share that May's new addition, Mitzi, is positively thriving. (Can you believe this photo is the same cat as last month?) We've stabilized her numerous medical issues, and she's loving life in the foster home of our Senior Veterinary Technician. We're over the moon for this super senior, and so grateful she came to us in time for a second chance at happy golden years. Thank you for having helped to make this possible!
As you know, the small matter of a global pandemic has put a pause on most of our TNR work, but it's a pause that gets…well, paused. The cats have continued to need us, and we've kept our promise to be there.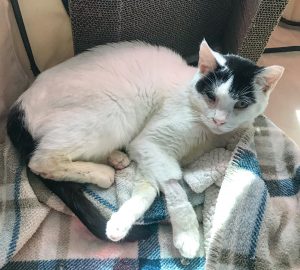 In May, one of our colony cats was reported to have an extremely painful mouth. We re-trapped him and were heartbroken to discover a very large oral mass. Sadly, the kindest thing we could to was to gently help him pass. We hate having to say "goodbye" to any cat, but we're grateful we could help this dear boy to leave this earth peacefully, and to relieve his suffering. Without you and Tabby's Place, who knows how long he would have gone on in increasing agony? May he rest in peace and in some knowledge that he was loved.
We've also retrapped a brave girl named Edie, one of our previous TNR kitties. She seems to be having some neurological issues, which we'll be working up with a specialist. I'll know more in time for next month's update, but please keep dear Edie in your prayers.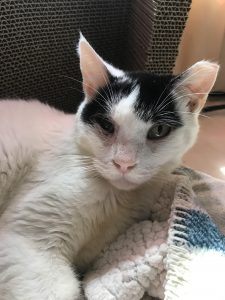 And then there's the beauty we've come to call Blink (pictured here). She's not technically a TNR cat; you might call her a cat without a country, er, colony. But, she was found by the roadside, spayed and ear-tipped but not microchipped. She looked as old as time itself, and rather tumbled by the years. A frail white sprite with black patches, Blink had serious problems with her right eye, which we feared we might be unable to save.
But time, tenacity and Tabby's Place have been working their wonders on Blink, and our old girl is feeling quite new these days. Lavished with love in the foster home of one of our Sanctuary Associates, she's making a swift recovery and discovering just how much she loves to be held and swaddled. ("Feral"? Not so much.) Best of all, following intensive supportive care, Blink's much anticipated visit to an eye surgeon pronounced her "healing beautifully," with no need for surgery. Just check out those bright, beautiful peepers! We have high hopes for a happy, healthy future as Blink sees a miraculous new world.
Dear sponsors, all of this is only possible thanks to your faithful generosity. Especially as this strange season stubbornly holds on, I thank you for being such true friends to our cats. Have a beautiful start to summer!