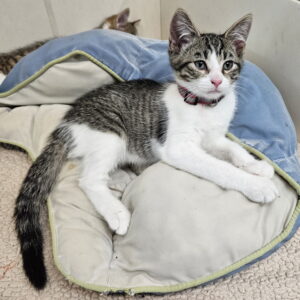 Dear Friends of the Kittens,
Clearly, cats are not a rare commodity at Tabby's Place. Each one leaves their unique paw print on someone's heart connected to this community. It does feel like a special note should be taken of a special milestone.
Tabby's Place recently embraced their 4,000th cat in the form of a sweet Siamese named Serendipity. This sweet girl has been a major contributor to the kitten population with a five-cat deposit. This little mama was so comfy on the lap of one of our employees that she chose that as her birthing place.  Read all about the milestone and Serendipity in Angela's blog: Dippity!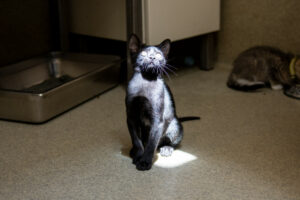 This being the summer season, it makes sense that the kittens are coming and going in waves. We are currently in the middle of an adoption wave as many of our first arrivals are now ready for forever homes. Only the most devoted of gatekeepers can keep accurate track of all the action on the floor. As of July 26, there were 34 kittens and two mama cats in foster care.
That number does not include 8 kittens who are now occupying Suite C, which has boomeranged back to being the kitten room, temporarily. There has been talk of naming it Mayhem Central in light of its frenetic quality—a group of tiny nuggets working hard to escape at any given moment given a chance. As a means of implementing some quality control, a few of them are wearing colored collars for easy identification.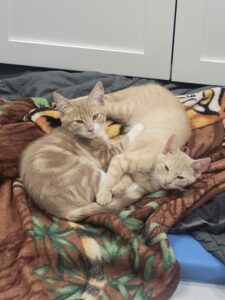 This kitten surplus is giving our medical team many tasks related to preparing the kittens for their forever homes. They are giving pre-adoption physical exams, (PAPEs), vaccinations, and performing spays and neuters. The winners of the spaying lottery this month were: (Mama) Patches, Loony, Kooky, Esmeralda, Nacho, Baja Blast, Gordita, Oatmilk, Church, Dunn, and Shauna. The neutering winners were: Wacky, Grayson, Puck, Tiger, Quesarito, Cocoa, Pele, Lighting McQueen, Berry, Marchand, Pumpkin, Burrito, Pascal, Van, and Travis.
On the new arrival wave were, Tofu Nugget, Barbie and Ken, the Les Mis kittens (Javert, Fantine, Gavroche and Marius), Nimona, Jigglypuff, Wigglypuff, Golbat, and Zubat. The aforetioned Serendipity was very pregnant when she was rescued and gave birth to five healthy male kittens, named Loki, Bartelby, Rufus, Jay, and Silent Bob. Very sadly, little Marius came in very sick and passed away within days of arriving at Tabby's Place.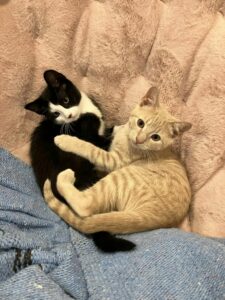 Most weathered their "procedures" well. Kooky took it a little too far and managed to be so active that her spay site opened up. This earned her a cone and placement in solitary confinement in order to receive antibiotics and cage rest. More on the medical front, Jigglypuff started running a fever and lost some weight, so she had to be put on pain meds and fluids. A speedy recovery to our little Houdini.
A large group also went to their forever homes, including Burrito, Marchand, Berry, Pascal, Shuana, Nachos, Quesarito, Cocoa, Oatmilk, Pumpkin, Gordida, Krispie, Fruit Loop, Briar, Pascal, and Shauna. An active month for sure!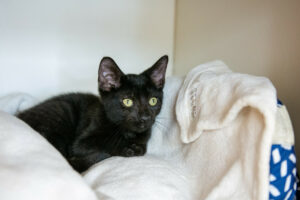 We are also excited to have launched our annual Linda Fund Matching Challenge this month. Prescott is the face of the campaign this year, and our blog explains all about this very special fundraiser. The Linda Fund raises funds for emergency and specialty veterinary care for the cats of Tabby's Place.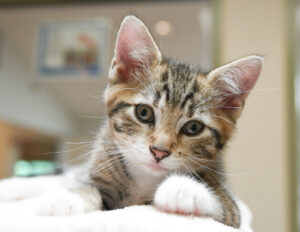 As always, we are truly grateful for your continued support and devotion to the mission and kittens of Tabby's Place. It's thanks to people like you that Tabby's Place can provide the amazing care we do to each and every one of our smallest furballs.
With a most grateful heart…
Your correspondent,
Karen