Hello and welcome to February, sponsors!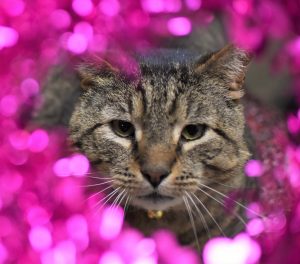 It is the traditional month of love, and I hope you know how very much I love you! With Valentine's Day approaching, I wish I could send you a proper valentine to show you how grateful I am for your sponsorship. Every time you see a heart this month, think of me and remember that I am sending you tiger-striped thank yous for everything you do for me!
I think you will be happy to know that I had another month full of good health and good behavior.
One of my roomies, Nikki, got under my skin a bit at times recently. But now that Nikki has found a forever home, I am quite relieved.
As you know, I have done so much work to learn how to coexist with kitties that I don't necessarily see eye to yellow eye with. I guess I could never expect myself to be perfect though. I have to give myself a little slack and remember that I am a work in progress.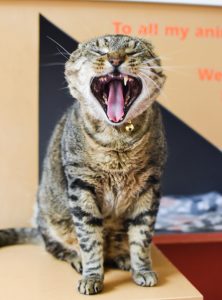 When my correspondent came to visit me, she showed me some pictures that other volunteers had taken of me and asked if I'd like to include them in this month's update. One I picked just made me laugh out loud. In fact, I kind of look like I'm laughing in the picture. Or yawning. What do you think? I am going to guess that I was yawning. And I don't remember when the other picture was taken either, but it appears to be something for Valentine's Day, so I am including it too. Do you think pink is my color?
Oh and guess what? My bestie Shea is getting a forever home with one of our volunteers who has fallen in love with him! Isn't that awesome? I will miss him something awful, but I couldn't be happier for him.
It seems like we have seen quite a few adoptions lately here in Suite FIV+, which is a huge big deal. Not every adopter is willing to take on a new kitty with a health concern, but thankfully, lots of our visitors here at Tabby's Place have opened their hearts and homes to members of the FIV+ club. I just stay hopeful that one day, my new forever family will come walking through the door and take me home! A boy can dream.
Until next month, I love you!
Love,
Rufus
(With help from your correspondent, Florie)