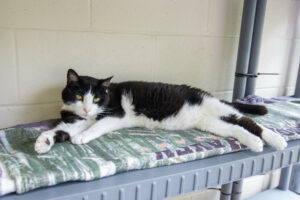 Dearest Fans of Our Sweet Pepita,
Happy mid-summer!  The heat has settled in for a long nap—and the humidity along with it— here in New Jersey.  Pepita tells me she is a true summer girl, as she is spending oodles of time in the solarium, soaking up the sun and the heat and occasionally a bit of a breeze. She's been lobbying for the installation of a beach behind Tabby's Place.  But out back is where Cherny's Garden is, which is a special place for a key event each year.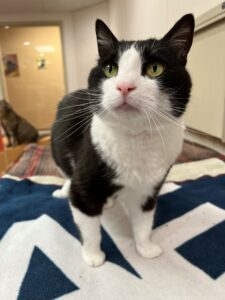 Earlier this month Tabby's Place held its annual memorial service in Cherny's Garden, to honor all the kitties we've sent to the Rainbow Bridge over the last year. This is always a touching event. Jonathan, our Executive Director and the founder of Tabby's Place, honors each of the cats who have left us by reading the cat's name and saying a few words about the kitty. Sometimes what he says brings back memories that make us all laugh. Sometimes what he says brings tears to our eyes.
Each staff member and volunteer who is present is provided a rose so that we can pull off petals and toss them into Cherny's Garden when a cat that we knew well or was close to is named.
At the same time, Angela, our Development Director, carries an urn with a mixture of a bit of ashes from each cat, and she scatters some ashes in the garden as each cat's name is read. This past year we sent 39 fur babies to kitty heaven–a very large number for us:  Tabby's Place Memorial Service Facebook link. Some were newborns and with us for just a few days, while others were icons who had been with us for a very long time.  The Memorial Service is a wonderful way to remember so many cats from hopeless situations who had a good life and love for whatever time they had at Tabby's Place. Pepita sat in the solarium, watching somberly with a bird's eye view of the service. Afterward, I stopped by for some love. It's as if she knew what was going on.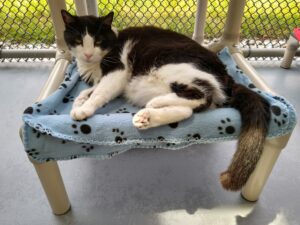 We are getting quite close to receiving our final certificate of occupancy for Quinn's Corner,  with just a few more steps to complete. We've been working under a temporary occupancy certificate that allows us to bring in cats and use the space while waiting for the final tic-and-tie of the inspections and paperwork for a final certificate.  A number of donor recognition plaques inside and outside have been installed, as well as a donor recognition wall of compassion.  Finishing touches are being completed all over the sanctuary, both inside and out. It is all so exciting and quite beautiful.  In the fall we will host a big grand opening, so stay tuned for details on that—Pepita and I would love to see you!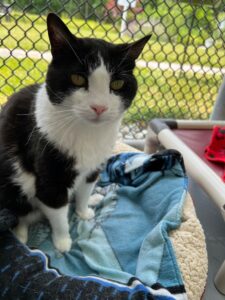 On the health front, for the first time in a long time, Pepita is having looser stool than is typical for her. This is not really a bad thing for her and the staff that need to express her, but it is out of the ordinary, so the vet team will keep a close eye on her.
Our sweet girl remains just that—as sweet as a big lollipop, and just as fun!  She is always happy to see me (well, really to see any visitor except those wanting to give her meds) and is happy to accept treats, a lap, lots of pets, and head rubs.  She knows that she has a joyful life because of your sustained kindness and love.
Some days in the summer feel like they should be an endless vacation. We wish you time to relax and renew during these long days of summer.  Remember this from Sam Keen: "Deep summer is when laziness finds respectability."
Thank you for all you do for Pepita.  I'll be whispering in her cute ears all about you, her awesome sponsor, on my next visit with her.
Your correspondent,
Sheila