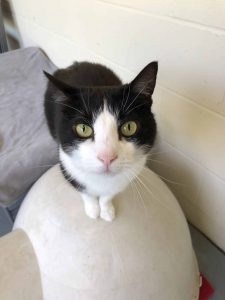 Dearest fans of sweet Pepita,
Pepita is enjoying the extended summer heat while anticipating the cool breezes of autumn around the corner. As a dedicated solarium dweller, she is ever-present there, even when the heat and humidity are high.  Sometimes she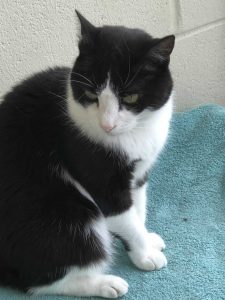 chooses just to melt into the tube between the suite and solarium. It's a great place to watch the happenings in the hallway and also provides her amusement as she blocks the other kitties from entering or exiting the solarium.
Pepita continues to be in good health. I'm so delighted that she has not been plagued with urinary tract infections (UTIs) this year.
Our gentle girl is now fully integrated into the Aged to Purrfection program and is bringing joy to residents each month.  I am awaiting some details and pictures to share with you next month as she spreads happiness with those in senior homes and in rehab facilities.
This is the time of year when Tabby's Place Linda Fund is in full swing.  You may recall that this is the fund where donations are put toward the medical needs of the cats and where donations are matched by wonderful benefactors.  Combined with your outstanding devotion as a sponsor to cats like Pepita, the fund ensures the medical care of each cat at Tabby's Place.  You can just imagine the incredible cost of caring for 120+ cats, many of whom have significant medical issues such as diabetes, cancer, heart conditions, dental diseases, and hyperthyroidism.  We still have a long way to go in raising funds this month, so please spread the word to your friends and family and encourage them to support a place you know and love by going to the Tabby's Place website home page.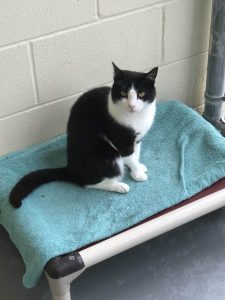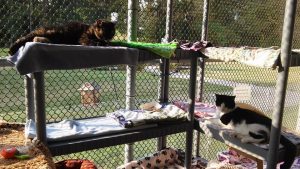 The fall brings some wonderful events to Tabby's Place.  First is Chip or Treat in October, which provides free microchipping for your pets and engages visitors in tours and cuddles with the cats, along with a costume contest.  November brings Thanksgiving with the Cats, which is always a  delightful time to meet the kitties, take a tour, participate in a silent auction and bring food and litter donations.  Keep your eyes peeled for these events and please let others know.
Pepita thanks you for all you do for her and for Tabby's Place.  She is a very lucky and very happy girl and brings oodles of delight to everyone she meets. Occasionally she will even bring love to her solarium-mates, as shown in the photo.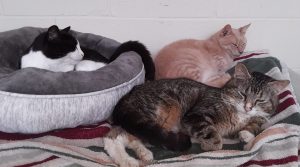 Take time to enjoy this change of seasons and look forward to more news of your beautiful special needs girl.
Your correspondent,
Sheila