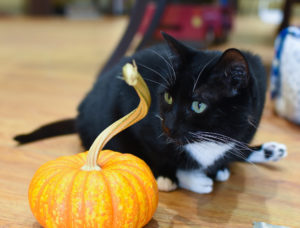 Happy Autumn, Olive Lovers!
It's time for another update on the Tabby's Place unofficial lobby greeter.
It is not often that the staff of Tabby's Place admits defeat, but Olive has managed to bring that about. The sad truth is that it was simply impossible to get her to take pills for her constipation consistently. So there has been yet another change in Olive's medication lineup. We are now giving our girl a liquid called lactulose. For those of you living in (blissful) ignorance, lactulose is very thick and sticky, almost like corn syrup in its consistency.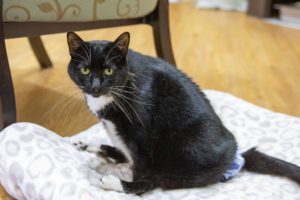 Now, I know what you're thinking. How is it that we expect a cat who won't take pills, even when hidden in treats or pill pockets, to voluntarily ingest a thick liquid? The answer is that we don't expect it. Olive has to be "wrapped" before we even attempt to give her the lactulose—that is, she is carefully swaddled in a blanket or a towel so she can't shred the hands or arms of the staffer medicating her. The lactulose is helping to soften her stools, no doubt, but that doesn't mean the volume and frequency of her vocal protests have diminished. Maybe it's just as well that the staff can't understand Olive when she complains…
Tabby's Place is allowing some visitors at this point, and Olive is thrilled. Visits are only by appointment and Olive would love to see you. Sign up here for that special time to visit with your girl!
Olive has gone back to her proactive greeting "duties" without missing a beat. It's a far better situation for her than the many months when visitors could only stand outside and wave to her; she really did seem to miss the interactions with people. Maybe that accounts for her not getting into fights with other lobby cats lately—or maybe, as so many felines have done over the years, she's simply lulling us into a false sense of security!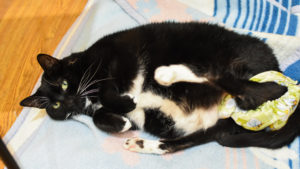 Your generosity in helping us provide for our little black-and-white spitfire is always appreciated. Thank you, and Happy Halloween!
Your correspondent,
Stephanie