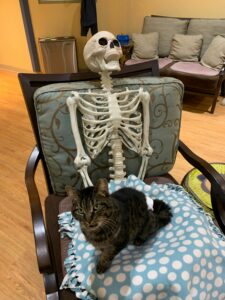 Greetings and Goblins to You, and to All of BOObalah's Friends,
This is a fun time of year, and Boobalah is all about having fun. Once her new lobby mates arrived, she dove right in and cozied up to her quiet blanket buddy. At least this person won't ever have to get up, so she will not be disturbed!  Boobalah is a curious girl and always likes to explore and help. On one evening this month, she found herself stuck in the stationary closet in the lobby. She has some favorite hiding spots in there and the staff had to search for her when doing a head count.
Who needs fancy cat condos and cat trees when a cardboard box can provide a nice cozy spot to snuggle in? Boobalah and Olive became box mates as they attempted to guard the front door. I think someone needs to tell them that they can't guard very well with their backsides! But they do seem quite content, and that is all that really matters.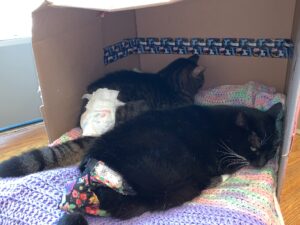 In other news, one of Boobalah's lobby mates has found his forever home. Frankie was good at making things a little tense, so all the Lobby cats threw a party when they heard the good news!
In medical news, Boobalah's weight was down and she was reported to be a bit off. She had a repeat urinalysis done and continues on antibiotics. She's had increased loose stools this month. We attribute some of this to her getting into extra food that is given to Rose. Now that Rose is doing much better, we have restricted her access to fish foods to help Boobalah's tummy.
Our annual Linda Fund Matching Challenge is underway. This is our annual campaign to raise money for specialized medical and emergency care for the Tabby's Place cats. These are expenses that cover treatment beyond the walls of our Medical and Surgical Center. If you would like to help us raise funds to continue providing this extraordinary level of care, please go to our home page: https://www.tabbysplace.org/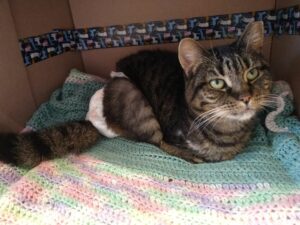 Boobalah sends you good wishes and gratitude for all you do for her. You are always there for her, and we are forever grateful.
Be well.
Your correspondent,
Donna