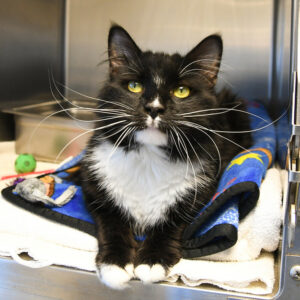 Happy, happy New Year, Team TNR!
If there's anyone who deserves a triumphant 2023, it's the lionhearts, the golden-hearts, the wholehearted-hearts like you. I hope this fresh blank journal is off to a jubilant start for you, and that it only gets better.
"Better" is exactly where the year begins for a sharp-dressed sweetheart known as Shamu. His is a whale of a tale, but he's just splashed down in an ocean of affection.
As you know, Tabby's Place volunteers diligently care for our feral cat colonies each day. Much more than a mere gravy train, these traveling angels bring both food and fondness, coming to know "their" cats intimately well. They are the front lines of love for our TNR work, and the first to know if anything is amiss.
Especially in winter, when cats are most vulnerable, that daily devotion is life-saving.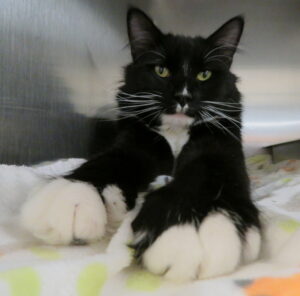 And in the depths of December, one of our most faithful feeders found a new face gazing up with hopeful eyes.
The newcomer was hardly subtle. A rough-and-tumble tuxedo among sleek, shy ferals, he was approximately the size of a marine mammal, and clearly a fish out of water. While the other colony cats went about their routines, the new boy begged our caretaker for both food and affection. Clearly, this was no feral cat.
Fortunately, this was our cat.
Just by virtue of needing us, he'd seen himself into the sea of love. One phone call later, and Shamu had a name, a family, and a ride to Tabby's Place.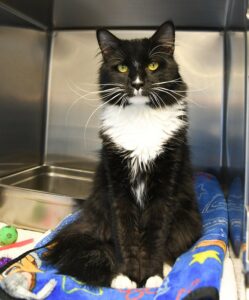 We loved him instantly, and Shamu hasn't stopped returning the favor. Sweet, bewildered, and covered in wounds from fellow felines, the gentle giant was almost certainly abandoned. This is a cat who has known love.
This is a cat who will never know a day without love, ever again.
As of this writing, Shamu is learning to tame his whaling appetite. This poor prince is not yet convinced the dishes of fish mush will keep coming, so he eats so quickly he gets himself sick. But we're working on that…and on reassuring him that the rough seas are behind him.
Sweet sponsors, you know we hate to see any cat forsaken, under any circumstances. But we're grateful Shamu found his way into one of our little tidepools of tenderness. And most of all, we're grateful to you for making it possible to be there for every single cat in our colonies — new, old, friendly, or feral.
If Shamu is any indication, 2023 is going to be a big, beautiful year for the Tabby's Place cats. Thank you for having a heart as wide as the sea for every single one!
Love, your correspondent,
Angela