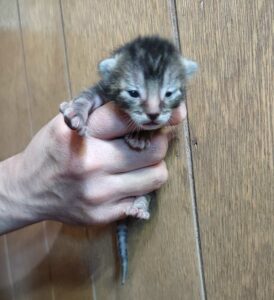 Tra-la…!
Oh, excuse me. I mean, happy May, Team TNR! Please pardon my lyrical lunacy. It's just that (a) springtime gets me a little silly in the head, and (b) every year from age 3 – 18, my Mom would awaken me on May 1st by (LOUDLY) playing "The Lusty Month of May" from the musical Camelot, with its triumphant opening "tra-la!"
Then again, perhaps "tra-la" is precisely the right posture for us this month. Let's throw ourselves headlong into a cliche like a blanket of blossoms and say it: everything is, indeed, coming up roses for our community cats.
Where we last left her, persevering Peekaboo was pregnant with what would be her very last litter. Our stalwart tabby mama had battled raccoons, losing a previous litter and her own lip; she'd soldiered through winters and worries; and she'd come, at last, to the springtime of love at Tabby's Place, all thanks to you.
I'm overjoyed to report that Peekaboo has given birth to five healthy babies. But don't take it from me…feast your eyes on this garden of sweetness!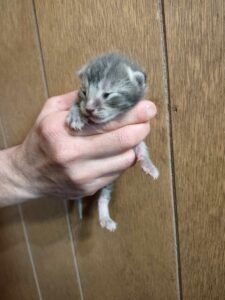 New-motherhood hasn't exactly tempered Peekaboo's fierceness, so our foster family continues to proceed gently. Much as we wish she would have permitted us to snuggle and smooch her with a thousand Mother's Day kisses, our feral girl prefers being left to the joys of motherhood with minimal interference.
It's the best thing in the world for Peek's five flowerbuds that they'll grow up with mama present. Peekaboo is an extraordinary mother, tireless and selfless in her devotion to these wee ones. As gifted as our staff is, newborn kittens are excruciatingly fragile, and they have the best chance of thriving when their own mom is there to nurse, nurture, and cherish them. In so many ways, little Duck, Goose, Pattycake, Marbles and Hopscotch have it made — as does Peekaboo herself, all thanks to you.
As you know all too well, not every kitten is quite so lucky. The littlest niblets face the longest odds when it comes to survival, and a great many newborns don't make it in the wild. That's why Tabby's Place's new expansion, Quinn's Corner, will include a world-class kitten nursery. When we set out to design an expansion that will cater precisely to the most vulnerable cats, neonatal kittens and cats with feline leukemia virus (FeLV) were at the top of the list.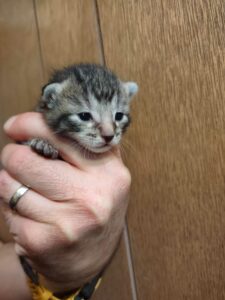 You are already phenomenally generous to support our TNR efforts each month, but if you have it in your heart and your budget to help make Quinn's Corner a reality, click here to come aboard our Capital Campaign. Right now, all donations are being matched, so this is a really special moment to help us change the world for cats.
Speaking of changing the world, we'd sure love to have you join our world in person at Tabby's Place! Last month I mentioned our need for additional volunteers as we prepare for our expansion to open later this year. From cleaning to feeding to delivering tender affection, volunteers make a huge impact on our cats' lives. If you have a heart for cats, we have a role perfectly fit for you at Tabby's Place.
If you, or anyone in your own "family" of cat lovers, can come aboard, please click here or contact our Director of Volunteers, Karina Jewitt, at kj@tabbysplace.org. Volunteers must be 12 years or older, and those under 16 must be accompanied by a parent during their volunteer shift. Please share this opportunity with your loved ones! And if you live a bit too far away to join us in person, know that you are still very much "right here" with us through your generosity.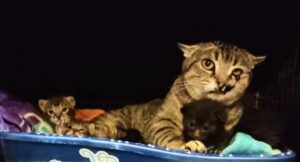 "Changing the world for cats" is what you do, month in and month out, from May's merriment to December's frost. On behalf of Peekaboo, her five blooming babies, and all the cats in our care, thank you from the depths of my heart!
Love, your correspondent,
Angela