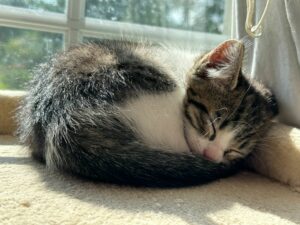 Happy July, Team Kittens!
If kittens signify love, then it is the "Summer of Love" at Tabby's Place. A number of kittens are being brought back from foster care to the sanctuary to start up the latest incarnation of the kitten room. This will allow potential adopters to have greater access to kittens when they come in to discuss adopting these tiny gems. Of course, many will remain in foster care as they await their forever homes.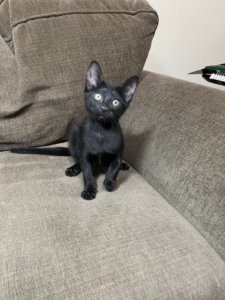 Freshly boosted, the Taco and Cereal kittens are awaiting adoption in their foster homes. Additionally, the Cereal kittens have also been spayed/neutered. One of the Taco group, Nachos, developed an upper respiratory infection and has started on antibiotics.
The flow of kittens is strong. This month, among the new arrivals, were Oatmilk and Cocoa, the Jackass crew (hopefully they have better judgment) that includes Steve-O, Knoxville, and Dunn among others, Amanda's kittens (names TBA), and Shauna from the Yellow Jackets litter.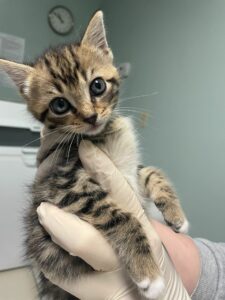 Shauna is noted to have an abscess on her left shoulder. She has begun taking antibiotics and will hopefully heal well. It is presumed that this was an injury that she came with that was not visible until it became infected. Please send good thoughts to this little nugget.
Of great concern was when the Jackass crew started to show signs of Calici Virus, which is a highly contagious virus that causes mild to severe respiratory infections, that in the absolute worst-case scenario can be fatal. The good news is that this issue was quickly resolved, and the three boys were well enough to be neutered. The cute little string bean, Dunn, will be spayed in about 3 weeks.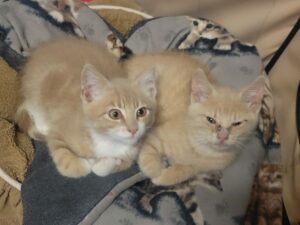 Pele, a kitten about 9 weeks old, arrived and went into a foster home. The Welcome Wagon also was happy to see LaLa and her Teletubbie litter of four little girls (Dipsy, Tinky, Po, and NooNoo). Po is much smaller than her sisters and was a bit dehydrated, so she is being closely monitored by staff until the family is ready for a longer-term foster home.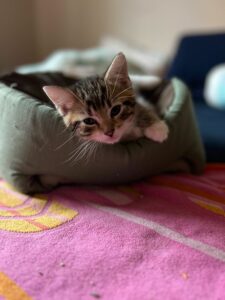 Patches and her kittens are thriving and have had all their vaccines.  Lightning McQueen joined his friend Pele and had the added bonus of meeting up with Rainey as well.
Kittens' antics can again be viewed through the lobby window at Tabby's Place. Thank you for your interest and support as always. Your caring and thoughtful support helps the staff at Tabby's Place always uphold the mission to which this organization is devoted.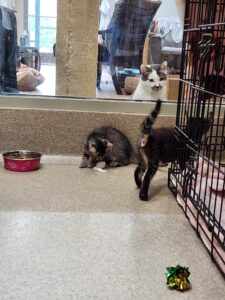 Your correspondent,
Karen