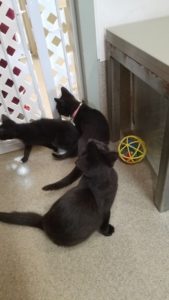 Dear Kitten Fans,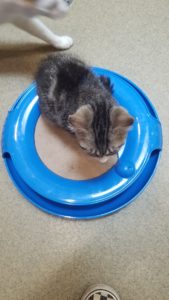 The kitten room continues to be a good representation of cats preparing to conquer the world by commanding the attention of one human at a time! The great news is that many of our kittens have been adopted this month.
With those that remain, there has been an effort to outdo each other in securing the largest piece of attention from visitors. There has been an uptick in some naughty kitten behaviors, such as human climbing (a possible Cat Olympic event) along with hand-and-foot play which is having its day with the kittens. All the visitors and staff that are having contact with the fur babies are being asked to ensure that graduates of the kitten room will turn out to be well-behaved felines with manners that will make them highly adoptable. What might be adorable in a little nugget of a cat will quickly lose its charm if it is a full-grown cat with questionable manners. It is best for visitors to use toys for play, never hands or feet.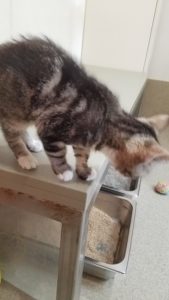 Ramekin, a 7-month-old tabby with white markings, seemed to be particularly enamored with developing his surfing skill and was often launching himself onto visitors over the gate. This behavior has been discouraged for his best interest, and he is learning to take a more subtle approach to gain attention. As far as his medical concerns go, he has recently had his medication increased to help him pass stool independently. He continues to be a very loving fellow who loves to connect with others, both human and feline.
Every effort is always made to help the cats at Tabby's Place find forever homes. Socialization, in addition to meeting their medical needs, is a big part of that. Two of our beautiful midnight-colored boys, Ben (4 months) and Jerry (5 months) have returned from their second time in foster care for help in socialization. They do very well in a home environment and, in fact, exhibited some nervousness when returned to the kitten room. They are young and healthy and just need to find the right home.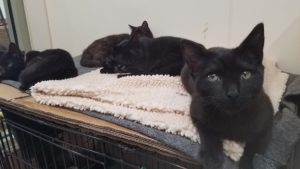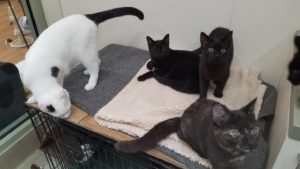 Sadly, we lost little Pingu this month. She arrived in poor condition with severe upper respiratory and eye infections. She appeared to be recovering and was thriving, but unfortunately, she became overwhelmed by her medical issues and her health quickly deteriorated. Her little fighting spirit will be missed. On a positive note, however, Chestnut and Strider are growing bigger and stronger each day in foster care.
There is a lot of love packed into the kitten room and its residents are eager to meet their families. Your sponsorship is such a vital and integral part of how Tabby's Place can continue to care for these sweet cats in such a humane way. Thank you as always for your continued support. It is so very appreciated.
Your correspondent,
Karen