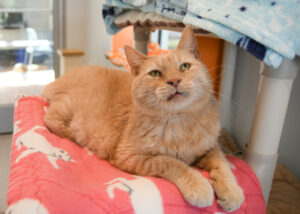 Dear Team Steven,
Where does the time go?  With summer coming to an end and Labor Day behind us, Tabby's Place is moving forward into the fall season with a bustle of activity. Perhaps some of you were fortunate enough to join us for Volunteer Appreciation Day.  While our plans to party at the park were thwarted at the last minute by inclement weather, we quickly and successfully moved to "Plan B" – holding the event right at Tabby's Place!  What a pleasure it was to see so many wonderful people and festive felines gathered to celebrate the miracle of who we are together. Hope, happiness, friendship, and love were in abundance as we honored our utterly indispensable volunteers.  We simply couldn't be Tabby's Place without our volunteers and sponsors!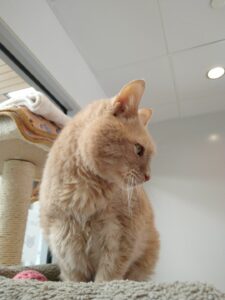 Parties seem to be the order of the day right now at Tabby's Place.  Perhaps it is because we always have so much to celebrate! Steven and I would like to formally invite you to the Grand Opening of Quinn's Corner on Saturday 10/7! From 12-4 p.m., we'll be celebrating Tabby's Place's expansion for FeLV+ cats, and we'd sure love to have you with us. We'll have tours, speeches, activities for all ages, and of course visits with our sensational cats, including our very special Steven! We'll be emailing you further details soon, but please mark your calendars for this fabulous moment in feline history.
If you haven't had the opportunity to check out our new surroundings, we think you'll find it pretty amazing.  And Steven would love to meet and greet you personally to show you his new digs and thank you for your generous support. For Steven, our resident philosopher, life is all about sharing sage advice and expressing gratitude on a daily basis.  He knows in his heart that, through your generous sponsorship, he is truly living his best life.
Of course, our celebrations continue online each and every day. Be sure to check out our website and Facebook page!  You'll also want to take a look at our blog to read stories and see photos of your favorite Tabby's Place felines.  There are lots of comings and goings here, so you'll have the opportunity to meet new arrivals and visit with longtime friends and favorite felines like Steven.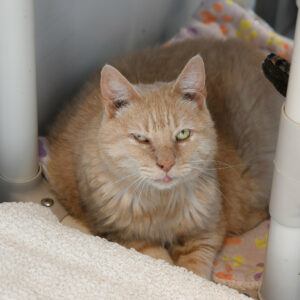 I'm happy to report that Steven has been in excellent health this month. Our wonderful photographer, Ruth, has captured some terrific pictures of him for you to enjoy.  On a more somber note, Steven is sorry to report that his longtime suitemate, Boom, crossed the Rainbow Bridge on August 26, 2023.  We will all miss Boom, as he was a unique character—a dusky charcoal gray little force of nature who was just one more delightful part of who we are here. Sometimes Steven swears he can still see Boom's shadow curled up in a cubbyhole or taking a swat at whoever comes through the suite door.  Certainly, he will be missed.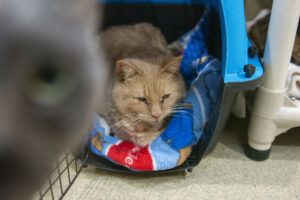 Until next time, we hope you enjoy the coming cooler weather and appreciate the many blessings in your lives. As Steven frequently reminds us, it's all pretty darn good, so what's the point of thinking anything otherwise? He's one very smart cat.
Your correspondent,
Tina