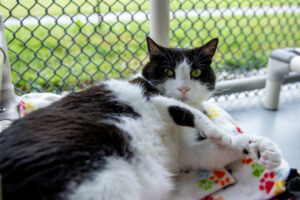 Dear Team Pepita,
A bench! A bench!!! Pepita loves the bench!  Recently a green bench was added to Suite A's solarium. Pepita has claimed it as hers, of course (did you expect anything less?) as you can see from the photos. Volunteers love it, too, because it is large enough to share the space with Pepita and dote on her with love and pets, all in a comfortable sitting position.  This is the perfect time of year to spend time in the solarium as the temperatures get cooler and the fall breezes provide much to watch as leaves skip across the pavement and the grass blows in the wind.
Your sweet girl had the chance to interact with a few visitors I brought through Tabby's Place recently. Two ladies from an active retirement community who had been introduced to Tabby's Place through a presentation I gave a year ago came back to check out how they would be able to bring a larger group of their pet club members on a field trip to Tabby's Place. They loved the sanctuary and especially loved spending a bit of time with our friendly and affectionate Pepita. She loved it for the love they provided but also because they handed out treats!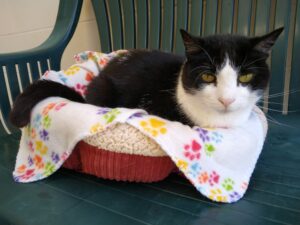 On the health front, Pepita is looking great and seems to be feeling pretty good, too. The staff noted her to have strong-smelling urine this month and, as a precaution, started a course of antibiotics for a urinary tract infection.
Much has been happening to get ready for the Grand Opening of Quinn's Corner, our expansion to care for cats diagnosed with the feline leukemia virus (FeLV).  I'd like to formally invite you to this event on Saturday 10/7! From 12-4 p.m., we'll be celebrating Tabby's Place's expansion for FeLV+ cats, and we'd sure love to have you with us. We'll have tours, speeches, activities for all ages, and of course visits with our sensational cats— especially Pepita!! We'll be emailing you further details soon, but please mark your calendars for this fabulous moment in feline history.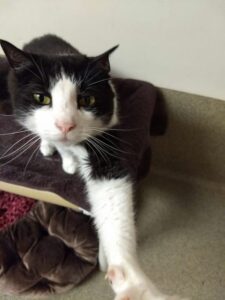 October also marks the 20th anniversary of Tabby's Place, so even more cause for celebration.  Over 4000 cats have been saved from hopeless situations. The magic continues with Quinn's Corner and the amazing adoptions we have seen of the FeLV cats. Not only have we seen a number of FeLV cats being adopted (with folks understanding what this means) but two 'double-positive' (FeLV and FIV+) cats were adopted together by an amazing woman who drove from Michigan to adopt one double-positive kitty to keep her own one company, but walked away with two amazing double-positive cats, Ponce de Leon and Andy!
Thank you for all you do for Pepita and for Tabby's Place. Our hearts are overflowing with love for you as we know you cherish these special felines just as much as we do! Enjoy the start of fall and I will bring you more Pepita news next month.
Your correspondent,
Sheila
.