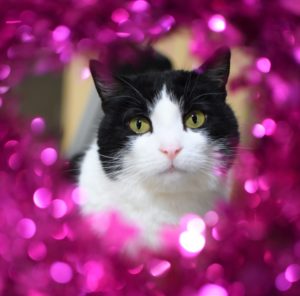 Happiest of holidays to our devoted Pepita fans!
It was a rare day on Saturday when Pepita declined a stroller ride!  According to our wonderful volunteer, Kim, who is amazingly devoted to strolling with the cats, "Pepita, so affectionate when I stopped in. Head butts, tail curls, and body rubs abound. I then asked her if she wanted to ride; she took off into the tube!"  The 'tube' is the plexiglass passageway between the inside suite and the solarium. Cats often hide there when they know it is time for medicine or some other activity in which they are not interested. Of course, it was a very cold day that day, so Pepita probably just wanted to stay inside and do a little snoozing.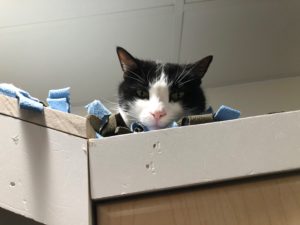 Speaking of snoozing, on Thanksgiving Day after I finished my volunteer shift, I decided to walk about and take photos to post on our volunteer page. You could tell it was Thanksgiving (post-turkey, post-football watching) as every one of the 12 photos I took showed a cat napping! I do love to see how content the kitties are after they have been fed and their spaces are all clean, with blankets and beds in place for the ultimate snoozing environment.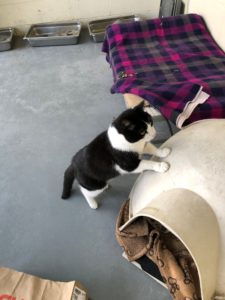 In years past Tabby's Place would hold an event open to the public called Thanksgiving with the Cats.  Visitors were able to come into the sanctuary, bring food and litter donations, and visit with many of the cats in all the different rooms, and feed them little bits of turkey as they interacted. Of course, this year our world would not permit such a public event. In lieu of this, the wonderful staff did live streaming of visits with the cats, while distributing turkey. If you missed it, you can find it here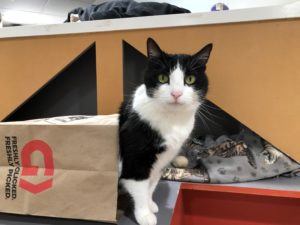 and have the chance to meet so many of our furry residents and hear their stories.
Pepita is recovering from yet another urinary tract infection (UTI), which regularly plague kitties who are incontinent. The vet team is always lickety-split in getting her on antibiotics and she really showed no signs of feeling ill when I last visited. Her coat is beautiful and soft and her attitude about life is unchanged:  affection, playtime, solarium time, good food, and kitty and human friends—these all bring her joy!  She is enjoying the heated igloos in the solarium these days. They provide the right balance of warmth and access to the outside fresh air, and she loves hanging out in them.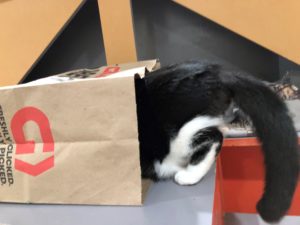 You can see that she is still a big fan of the paper bag! Each Sunday I take a new one in for her and as soon as she sees it she comes from wherever she may be and immediately explores the special enclosure.  On this particular day, I tried to coax Pepita into my lap.  She jumped onto my lap and just as quickly decided the bag was the place to be.  None of her suitemates show much interest in the paper bag—some fur babies are into it and others are not. Just like humans, they each have their favorite things!
My lap was not empty for but a mere second when adorable  Mary decided that warm spot was especially meant for her. So I shared my time petting Pepita in the bag and Mary on my lap–pure bliss!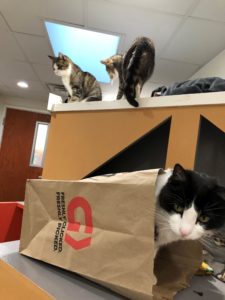 I ran across this 'SnowMan Wisdom' that brought a smile to my face. I hope it brings a smile to yours: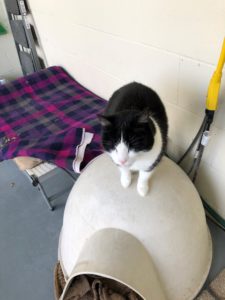 Snowman Wisdom
Stand Tall
Be Cool
Accessorize Smile
Make People Happy Just By Being You
Go Outside
Things Will All Turn Out
If You Just Stick Together
Pepita and I and everyone at Tabby's Place are humbled by your continued generosity that enables Pepita to live a wonderful life. We wish you and all those who are close to you a warm and wonderful holiday season, full of love and joy!
Your correspondent,
Sheila