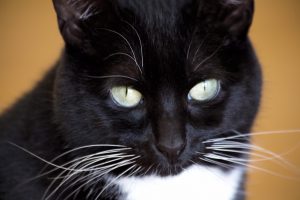 Happy New Year, Olive fans!
The new year has brought several changes for our girl. It seems that we didn't have quite the correct combination of medication, food, and expression routine for Olive, or perhaps her needs have changed.
She had not been eating much of her canned food and was becoming very difficult to express. So once again, she's receiving a small amount of high fiber food overnight to keep things moving along. We are trying her on a new medication as well. All of this is being done to try to make sure she remains as comfortable as possible; like medicine for people, finding a good balance is as much art as it is science.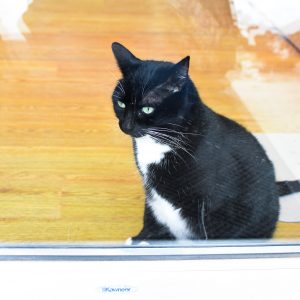 This is not to say that Olive has not been demonstrating her personality to visitors—far from it! We were lucky enough to have lots of visitors over the holiday period, as often happens. Some of them couldn't even get in the door initially, as Miss Olive was situated directly in front of it when they tried to enter.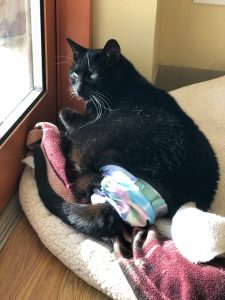 Once they were in, our little lobby greeter was on the job immediately! Everybody and everything had to be sniffed immediately.
Of course, we try to warn first-time visitors that Olive can be feisty, but sometimes we're just not quick enough. A young woman came in for a tour, as she had not been to Tabby's Place before. She knelt down to greet Olive and was petting her. I said, "Please be careful; she can be a little…" and that was as far as I got before Olive gave our visitor a sharp nip. Oh, dear.
Fortunately, the woman took this in stride, but it has to be the case that most people, seeing a cat come up to them immediately, will assume the cat is friendly and won't expect a nip or a swat.
Nips, swats, and all, we love this little one, and we're glad you do, too! Thank you for helping us care for Olive.
Your correspondent,
Stephanie