Greetings, Kitten Fans!
Summer vibes are all around. It turns out Peekaboo was missing her peeps back at the community colony and did not want to miss the summer fun. She sent out an emphatic message that indoor life was not for her, and she thought that human contact was overrated. She was spayed—not her idea—and released back to her colony—her idea. Three of her litter of five have found their forever homes and the others are waiting to be adopted—with variable levels of patience—at Tabby's Place.
Another feline mom, Gossamer, was also spayed and is currently being evaluated to see if she might be adoptable as an indoor kitty. Stay tuned to see the course her life will take. Her kittens are also in the process of finding their forever homes.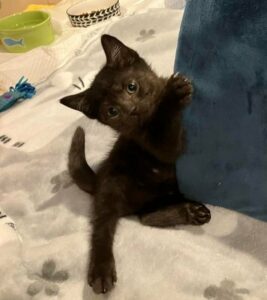 On a sad note, Dewey came in with a severe upper respiratory infection, and with the loving care, he received from staff member Karina he did make a recovery. Sadly, things took a bad turn when one evening in the middle of playing, he fell over and instantly passed away. You can imagine what a devastating loss this was to everyone, especially after his hopeful initial recovery. The medical opinion is that his passing came because of a cardiac event. Another sweet furry angel to help watch over the flock.
In a kitten information round-up, Dave and Matteo were put on antibiotics for upper respiratory infections, and Biynken, Wynken, and Nod (in foster care) are recovering from eye infections and some injuries they had gotten in the wild. The spaying/neutering force is strong at Tabby's Place, as usual, and there have been many patients receiving this procedure. Beatle kittens: John, Paul, George, and Ringo (hopefully they will be adopted together as it would be a shame to break them up again), and Chuck and Norris were all neutered/spayed and remain in foster care. Norris is still a little skittish and is receiving intensive in-home socialization to help her be more comfortable with human handling. Chuck is having an easier time with that and has a reputation as a lovebug.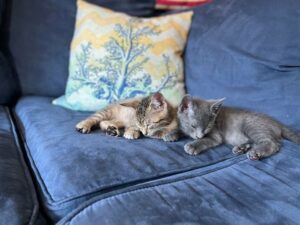 As the new evolution of Tabby's Place takes shape, we continue to seek an expansion of our volunteer family. Please direct anyone who might have an interest to the Tabby's Place website to fill out a volunteer application form.
Thank you as always for your continued interest and support. We could not do what we do at Tabby's Place without people like you.
With many heartfelt thanks!
Your correspondent,
Karen