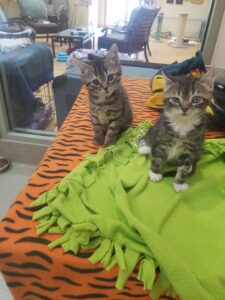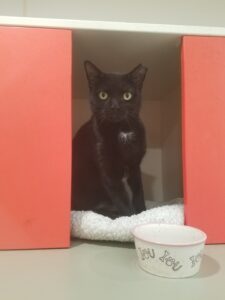 Dear Friends of the Kittens,
You will be happy to know that even the cats are snuggling down for some winter's rest as it seems like chillier weather has finally arrived. We are happy to report that previous kitten room residents that you may have been following have all been adopted and are settling into their forever homes for the new year. Although Tabby's Place is truly a sanctuary for the many cats that find their way there, nothing can compare to the love cats receive when they can be part of a family. Most of the kittens that are still awaiting adoption are in foster care and fortunately are also getting attention and adoption requests. There is a sense of hopefulness about their paths to forever homes as well.
There are currently four kittens in our Special Needs (Kitten) Suite: Dunebug, Taco Bella, Armadillo and Rodeo. The first two came to Tabby's Place through Animal Control. Dunebug is a petite girl who loves pets and snuggles. She greets visitors and takes the opportunity to interact with whoever comes by. Taco Bella also enjoys pets but tends to be more vigilant initially. She was somewhat nervous when she arrived, but has really blossomed in the suite and now enjoys loving attention after a brief warm-up period. The little nuggets in the room are Armadillo and Rodeo, a bonded tabby pair whose cuteness knows no bounds. They are sweet little kitties who are curious and affectionate and always happy to greet visitors to their little domain.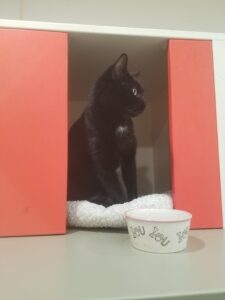 A big news item in our kitten world this month is the arrival of a litter of six "wee" ones with Irish names. There are 2 girls and 4 boys in the litter and the boys have all tested positive for the feline leukemia virus. As a result of this diagnosis, they must remain separate from other cats and kittens. This has resulted in their placement in loving foster homes until they can find permanent homes.  This adds timely relevancy to the expansion of Tabby's Place with Quinn's Corner, as this will provide a safe sanctuary for feline leukemia-positive cats and kittens when it is ready later this year.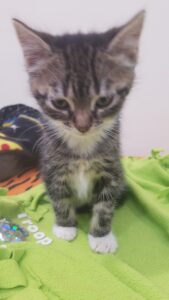 We hope that you and all your dear ones are well and as always, we want to express our gratitude and deep appreciation for your support and commitment to the kittens of Tabby's Place.
With warmest regards,
Your correspondent,
Karen