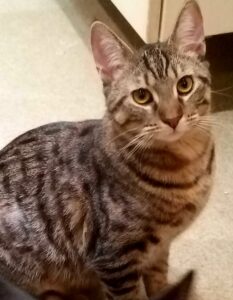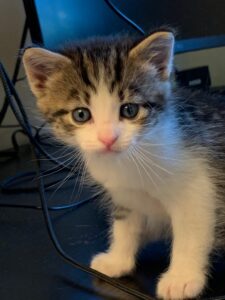 Dear Friends of the Kittens,
Although the population in the Kitten Room has dwindled for all the right reasons (adoptions—yay!) it has not diminished the enthusiasm of the greeting from the four felines in residence. Black cats are de rigueur with Kittatinny, Ben, and Jerry creating the ebony trifecta. Their tabby roommate is the adorable Tuscarora who can hold her own in this fast-paced little enclave. These roomies will not be together for very long because they will all be going to their forever homes very soon.
Ben and Jerry have overcome their separate medical struggles getting to this point. Ben had developed a swollen right foot which fortunately has responded nicely to daily warm soaks (sounds like a promising idea for everyone, right?). Jerry had previously been diagnosed with gingival hyperplasia (inflamed and enlarged gum tissue). He has already undergone a procedure to cut back the tissue as well as having staff regularly brush his teeth. Unfortunately, the tissue grew back, which required he be sedated to extract all but his canine teeth. The good news is double-fold:  they have weathered all the medical intervention quite well and they have been adopted together and will be going home as soon as they are fully recovered from their procedures. Other adoptees who have been in foster care are Bambi, Suki, Allegheny, Chestnut, Strider, Munequita, and Perseides.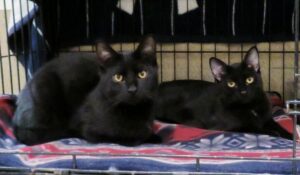 The foster care network connected to Tabby's Place in currently hosting many adorable little nuggets. Tater, a paraplegic kitten, has recently arrived. Although there is no specific diagnosis, it is known that she has a spinal abnormality in her thoracic spine. The plan to learn more about her medical condition is to repeat her x-ray when she is a little older and will be put under anesthesia for spaying. She needs a higher level of care because of her condition, which has also made her incontinent; she is currently in foster care with a staff member.
Also in foster care is a litter of five little black and white munchkins: Adare, Kinvara, Dublin, Donegal, and Doolin. They came in flea-covered and frightened, but are now getting the love and care they need to thrive. To build a community they have joined Tater so that she would not be lonely.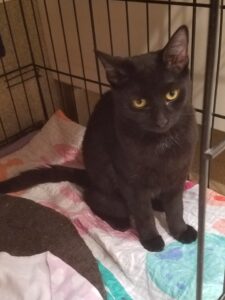 The kittens coming into the Tabby's Place foster care system are coming from desperate situations and that was certainly the case for little Thena, who was found along the side of the road, unable to eat on her own. Thankfully after a few days of staff TLC in foster care, she has figured out eating and using the litterbox. This enabled her to be moved into foster care with a volunteer. Also in foster care are Armadillo and Rodeo, two little tabby cuties, who were rescued when their mother was found deceased.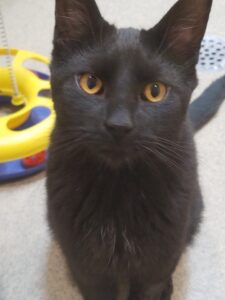 Thank you for your support of these precious little lives, because without you Tabby's Place could not take the steps we do to rescue cats and help them thrive despite their sometimes-dire situations. Your commitment to the most vulnerable is appreciated more than we can say.
We all (kittens and humans alike) wish you a magical holiday season, filled with love and laughter.
Your correspondent,
Karen