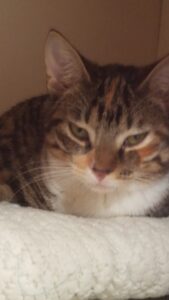 Dear Friend of the Kittens,
Although the adorableness quotient is still quite high in the kitten room, there is a lessening of frenetic kitten energy. One can now walk in the room without having cats launch themselves at you. All bets are off on whether they will challenge you when you try to leave the room, however.
Although we tend to focus on the resident kittens at Tabby's Place, there is a kitten network beyond the walls of the sanctuary. There are many adorable felines being cared for in loving foster homes as they are given the opportunity to become socialized to be a member of a human family. Our littlest babies, Strider and Chestnut, will soon be neutered before they depart for their forever homes. In fact, many of the current residents of the kitten room have forever families waiting for them. As much as staff and volunteers do their best to give the kittens the attention they need, nothing can replace the sense of security and comfort a cat gets from living in a loving home with a human family.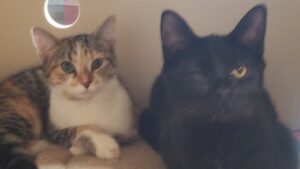 One of the routine procedures that the staff at Tabby's Place provides for the kittens is spaying and neutering. Those having recently undergone this are Forest, Roo, Malachite, Bambi, Suki, Tofu, Tempeh, Kittatinny, Allegheny, and Tuscarora. Normally the kittens weather this procedure quite well, but our poor little Bambi had a bit of a difficult time recovering from her surgery. She had an uncommon reaction coming out of anesthesia and remained wobbly and off-balance for several days. Just to be on the safe side she remained in the Medical Center for observation for a few extra days and then was able to rejoin her friends in the kitten room. The good news is that her condition has improved over time and she now appears to be back to normal.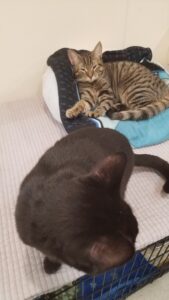 The low-key vibe in the kitten room this week could also be due to there being an upper respiratory infection (URI) going through the room. You can hear little sneezes and can even see that some have been affected by runny noses and goopy eyes. Here's to hoping the sweet babies make a quick recovery and are up to exploring the world soon. The care the kittens get at Tabby's Place is an integral part of the mission and purpose of Tabby's Place.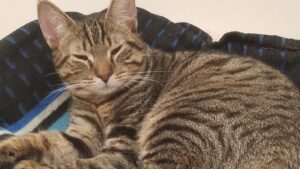 Without your continued support, the cats might not be able to receive prompt attention to needs and the treatment they deserve to live long and healthy lives. Thank you, as always, for your continued devotion to the cats. Please know how much it is appreciated. We wish you a Happy Thanksgiving and remind ourselves each day just how grateful we are to have you in the lives of the kittens.
Your correspondent,
Karen