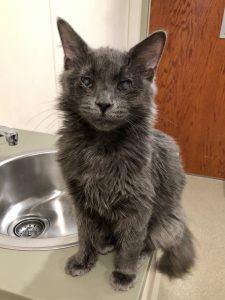 Happy Holidays, Kitten sponsors!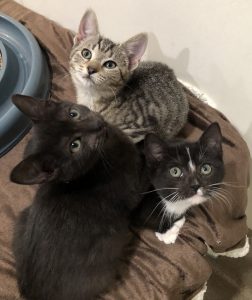 It's the most wonderful time of the year – the Tabby's Place halls are decked, the stockings are hung (and lightly chewed), and we have had so many adoptions lately that surely it must be a holiday miracle.  In the last few weeks, we've had so many cats (adult and kitten alike!) going to their forever homes that we're sure there must be magic at work.
Among the most exciting of these is shy Mallard, who we worried would be forever overlooked due to his skepticism of humans.  As someone who adopted a shy kitten (and her very outgoing sister), I know that these cats can truly blossom and bond very closely with their human families with love and patience.  And I'm happy to report that Mallard found a wonderful human and has gone to his forever home!  It's always especially gratifying to see someone take a chance on one of the "different" kittens and we wish Mallard all the best.
Speaking of "different," handsome Dougal also went home!  We were honestly shocked that this beautiful boy lasted with us as long as he did with his sweet and playful nature.  But following his journey from thinking he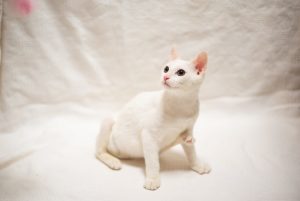 might lose his eyes to seeing him go home happy and healthy has been a joy.
Also adopted this month:  Katie, Froggie, Andromeda & Cassiopeia (together), Corvus, Perseus, Kermit, Bruce, Justin & Edmond (together), Gazelle & Moose (together), Impala, and Daphne.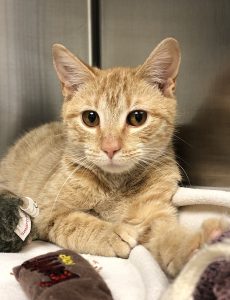 I told you there were a lot of adoptions!  Our Kitten Room went from ten kittens to just one: newcomer Periwinkle.
Periwinkle is as beautiful as she is unsure what she thinks of us.  She'll lean in to let you pet her and then hiss and back away. I have found that she enjoys watching fish on my phone, and is much more at ease while doing so, so I'm working on making friends with the help of some screen time.
And believe it or not, we still have new arrivals!  Outlaw and Sheriff and Lucifer and Mazikeen are currently in our intake quarantine and we have two litters still in foster homes.  More on these newcomers next month!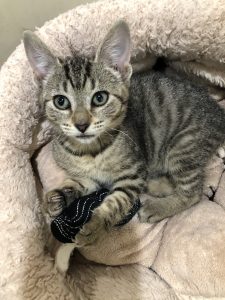 Toad and Tadpole remain in ringworm quarantine, poor things.  These babies of Froggie just can't catch a break!  We're hopeful that they'll be getting a clean bill of health very soon and can finally spread their charms to all of us at Tabby's Place.
And finally, an update on our "Felvies."  Gose, India, Lager, Ale, and Kolsch continue to grow into loving playful little cats.  India remains shy but the rest have become very friendly!  They'll all come running as you walk into their private room and they love to play and jump and run around.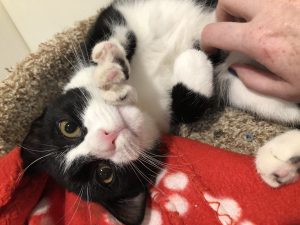 Gose and Kolsch even like to be picked up and cuddled.  These babies will need very special adopters, as FeLV is contagious to other cats and gives them an unpredictable future.  We remain hopeful that we can find them just the right homes but in the meantime, we'll give them all the love and care they need right here.
And that's all the kitten news for now!  Thank you as always for your sponsorship of our youngest residents, and best wishes for a wonderful holiday season and a happy new year.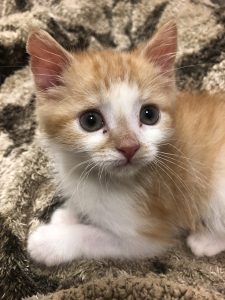 Your correspondent,
Tara