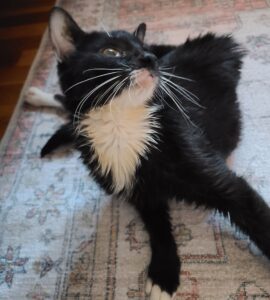 Dear Jude Friend,
Jude had a pretty good month. She only had 2 seizures, which isn't too bad. She did have one day of cluster seizures, which lasted about 30 minutes, but then it passed and she was ok again.
She did have a couple of days of loose stool though, and we know what that means…   … a bath! And we also know that means a very angry Jude. Even though she hates the bath so much, it's very obvious she likes to be clean after the bath, and she is much happier once she is clean again.
Jude had 3 foster kittens staying in her room over the last month. It's really cute, because every time they meow or make any sounds, Jude tilts her head from one side to the other, obviously listening to them. They are still too small to run around her room yet, so they are in a playpen, but she can hear them and seems very interested.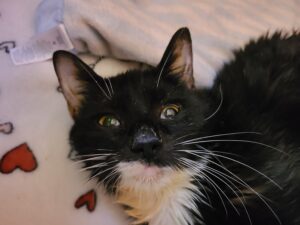 Jude also has a new friend in her room, Kaipo. This sweet boy was rescued from Lebanon (the country) by an organization we work with on occasion. They had contacted us about 2 paraplegic cats they desperately needed with. Tabby's Place was not able to take any more incontinent cats at the time, so I and another staff member rescued them both. I took Kaipo and she took Cypress. They are wonderful cats who have been through so much.
Kaipo will eventually be able to go all over my house, but while he is still new, and getting used to things, he is just in Jude's room. He obviously loves cats very much and is always flirting with Jude (she has no idea) and making sweet sounds for her. I think he will fit into our house very well, and I hope he will be happy with us. His back is broken, and we don't know how it happened, but it could have been in one of the explosions over in Lebanon. I'm glad he's safe now.
Jude is doing pretty well with her treatment for diabetes. She's not crazy about having her blood sugar tested (this is done by pricking her ear to get a little blood), but she tolerates it fairly well. In the beginning, I had to test her blood sugar levels twice a day, before each dose of insulin, but her diabetes is pretty stable now, so she only needs testing once every few days. Jude is on one unit of insulin twice a day, which is a low dose, and she is maintaining that dose nicely.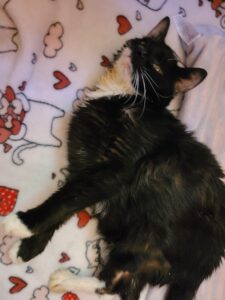 One of Jude's medications is in the form of tiny little ball-shaped pills. She gets 8 of these tiny balls a day (with her other medications), and I have to tell you, they were very annoying to administer. They roll out of the pill popper, roll across her bed, and are generally not fun to work with. I recently found the answer to my tiny medication issue… …empty pill capsules! They actually sell empty pill capsules, and you can fill them with whatever medication you need to use them for. These have been such a wonderful addition to our medication routine, and it makes it much easier. Jude already takes 4 regular-sized pills twice a day (and 2 pills are three times a day), so anything that will help is much appreciated.  Now the little ball meds go into the capsule, and pilling Jude is so much easier, and we get it done the first time. I know most people don't get so excited about little empty capsules, but they changed my life!
That's all the Jude news for now. As always, thank you so much for your support of our little Jude, as we couldn't do this without you.
Your correspondent,
Karina