Dear Jude Friends,
Jude had a really good month! She had only had 2 small seizures and neither of them lasted very long at all—just a few seconds—and she came out of them without the need for rescue medicine. I'm always very happy when Jude has such an easy month, and I'm sure she is happy about it too.
Jude's temporary roommate, Eli, was getting too much for Jude. As Eli grew and became more active, Jude was having none of it. Eli kept trying to get Jude to play with her and jumping around Jude. This kind of behavior drives Jude crazy, and she gets very angry. Jude likes things a certain way, in that she likes everything in her world to be the same each day, and she wants everything to be calm around her. A 5-month-old kitten is not calm, and they never do the same things because everything is a game and fun at that age. Jude started getting cranky and she was ready for Eli to leave.
Eli did leave Jude's room, and the new foster kittens entered Jude's room. The new kittens are tiny (4 weeks), and can barely walk in a straight line, so they certainly can't bother Jude. This is the age that Jude likes, as they are not hyper and jumping all over the place, and they give her instant respect.  Jude really likes kittens, and when they do their tiny meows she perks up and looks around for them. She loves the sounds of small kittens, and they really seem to interest her. As soon as they reach the crazy kitten stage she is done with them and wants them to leave, but right now the current fosters are still small, and this is perfectly acceptable for Jude.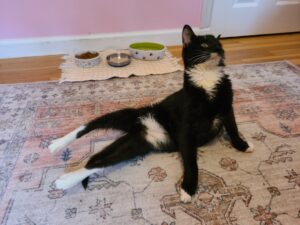 Every day I express Jude's bladder, but she will NOT allow me to express her bowels.  She loses her mind if I try to do that to her, so I have to let her do it on her own. If you remember from an earlier update, at my house we call this her turdy works. Luckily, her stool is nearly always perfect, and easy to clean up. I also have a washable rug in her room, just in case she does her turdy works on the rug, instead of on the easily washable floor. She is very consistent with her turdy works, and she usually does it within 10 minutes of coming out of her playpen in the morning. We clean it up quickly, so she doesn't scoot herself back through it.
The days are nice now, so I have been able to open the windows in Jude's room during the days. It's wonderful to see Jude so content, with a nice breeze blowing her fur, she loves it so much. She doesn't see well (if at all), so she really needs things that stimulate her other senses. I think that's why she also likes the crinkle ball toys the most, as they make noise, and she can track where they go.
The other day I petted Jude for about 1 minute! One whole minute of pets before she got mad at me—I was so happy! I think for a brief second she even liked it as she leaned her head into my hand. I don't get much affection from Jude, so I will take whatever I can get, whenever she will give it.
With our Quinn's Corner expansion nearing completion, Jude and all of us at Tabby's Place would love your help in expanding our family—with volunteers! From cleaning to feeding to delivering tender affection, volunteers make a huge impact on our cats' lives. If you have a heart for cats, we have a role perfectly fit for you at Tabby's Place.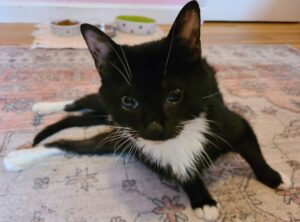 If you, or anyone in your own "family" of cat lovers, can come aboard, please visit our volunteer page, submit a volunteer application, or contact me (I am the Volunteer Director) at kj@tabbysplace.org. Volunteers must be 12 years or older, and a parent must accompany those under 16 during their volunteer shift. Please share this opportunity with your loved ones! And if you live a bit too far away to join us in person, know that you are still very much "right here" with us through your generosity…and we are so very grateful!
Thank you so much for all your support.
Your correspondent,
Karina