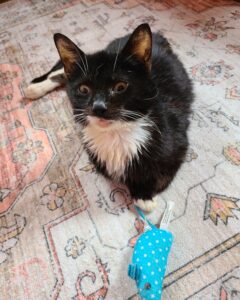 Dear Jude Friend,
Our little Jude had some issues this month. She developed an upper respiratory infection and was really sick for about a week. I immediately spoke to the vet team when I noticed her symptoms were starting, and we got her on antibiotics right away.
Our poor little girl had a snotty nose, she was sneezing a lot, and she felt very, very sorry for herself. For the first 3 days, she didn't even come out of her playpen—she just didn't want to come out at all. She just wanted to stay in her pen, curl up on her soft blanket, and sleep. On the first day, she barely ate anything, on the second and third days she ate about half of what she usually does, and by day four she was eating well again.  She didn't grumble when I gave her medicine, or even when I expressed her bladder and bowels! I was a little concerned, as she always grumbles—literally always—but she was just quiet.  For three whole days, she was quiet, slept a lot, and wanted to stay on her soft bed.
As we entered day four she brightened up a little, and when I went to give her medicine she growled at me. I was sooooooooo happy! I know it might be weird to say I was happy to have Jude growl at me, but I was extremely happy! It meant my little girl was starting to feel better. After day four each day was a little better than the day before. Each day she got a little crankier and was eating really well again.  By day four she was ready to leave her playpen, and roam around the room again.   I can't tell you how relieved I was.
In the last month, Jude had 3 seizures, but all of them have passed quite quickly, and didn't need the rescue medicine. Her bladder did let go on each of them though, so she did have to have a few baths this month, which we know she loves!
Jude and Eli are still getting along quite well, and Jude seems to like the company. When Jude was sick, and not coming out of her playpen, Eli seemed to miss her friend. Eli would go over to Jude's playpen and peek in at her as if to say "Hey, are you ok? Can you come out to play?"
I am currently fostering 3 newborn kittens who don't have a momma cat to care for them. They are in a carrier in Jude's room, so I go in there to feed them every few hours. They always make little squeaks and cries that newborn kittens do, and Jude is fascinated! She tilts her head one way, then the other, and is obviously listening intently to every single noise they make.
In other news, by now you know that Tabby's Place is building an expansion called Quinn's Corner, for vulnerable cats with feline leukemia virus (FeLV). As we prepare to open our expansion later this year, our need for volunteers increases. Volunteers are a huge part of our operation, as we could not run Tabby's Place without them.
Beginning in May, we will launch an intense volunteer recruitment campaign to find those willing to give the gift of time and make an impact on the lives of our cats.  If you know of anyone who would be interested in volunteering (perhaps even you!), please let them know we will soon be reaching out with more details. (They can sign up to receive our emails here; scroll down to the "subscribe" box.) There are many types of volunteer duties to fit diverse abilities and schedules.
Thank you, as always, for helping to spread the word about Tabby's Place!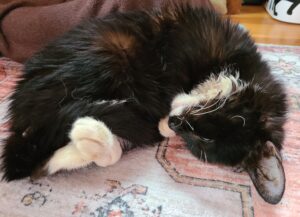 That's all the Jude news for now. Thank you so much for your support of our little girl.  You know, I'm sure, that we couldn't do it without you.
Your correspondent,
Karina