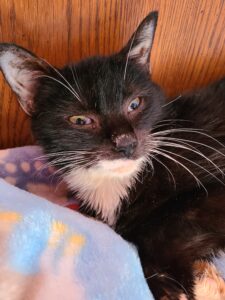 Dear Jude Friend,
Jude had a good month! She only had one seizure, which is great! She had one episode of cluster seizures too, but it passed quickly and she was back to normal in no time. Overall, Jude did really well for the last few weeks, which makes me very happy.
She did need one bath this month because she got urine on her fur. She is not the best at bathing herself, and I don't want that urine to sit on her, so into the tub we went. She was extra angry about the bath and was trying to knock things over on the side of the sink, and she tried to cling onto me with her claws. Ouch! But we got through it, got her dried, and settled her down after the horrible bath. Once the bath is over you can tell she is much happier.  Just like any other cat, she likes to be clean. She just doesn't like what she has to go through to get clean.
Jude had a few visitors to her room this month. One is Greylie, a foster kitten that is staying with us for a while, so she doesn't have to do her quarantine in a cage. Greylie doesn't really bother Jude, but she does smack toys around Jude's room, which seems to annoy Jude a little. Jude likes her things to be where she left them, even if she doesn't seem to remember where she left them most of the time. Where she actually leaves them is usually under the bed, so I'm grateful to Greylie for retrieving them because that is usually my job.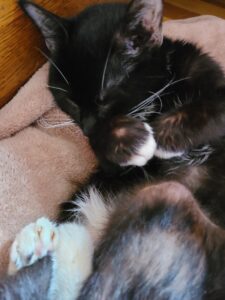 The other visitor to Jude's room was Farrah, who is another one of my permanent fosters for Tabby's Place. Farrah came home with me when she was diagnosed with cancer a few months ago. Farrah is also diabetic and has heart disease. Recently Farrah couldn't walk very well:  her back right leg kept giving out under her. While we tried to work out what was going on I put her in Jude's room, so I could keep an eye on her, and also, Jude's room is easier for Farrah to get around, and not have access to a bigger area. I moved Farrah's favorite bed into Jude's room, so there would be a bed for each of them. Jude does not like anyone to take her stuff. They seemed to do quite well and pretty much ignored each other. Jude did keep stealing Farrah's wet food, but I just made sure to put out extra for them both.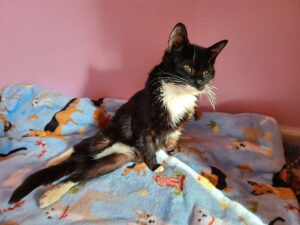 After a few days, Farrah had improved greatly and was able to walk again with no issues. We are not sure what happened, we did bloodwork, x-rays, and an ultrasound, but we are not sure why she was having issues walking. Once Farrah was fine again she left Jude's room, and Jude got her room back to herself, which I think she prefers.
Jude is getting ready for the holidays. She hung her stocking, and she is hoping Santa Paws will bring her some crinkle balls (I think he will ;-))
It seems to be Jude's mission in life lately to make as much mess as she possibly can. She has always been kinda messy with her food, but lately she gets it everywhere! I find kibble across the room, all over her rug, and even in her water bowl. I am constantly cleaning up after her these days.
That is all the Jude news for now. Jude and I would like to wish you a happy holiday season, and a safe and healthy New Year, and a huge thank you for your support of our little Jude.
Your correspondent,
Karina