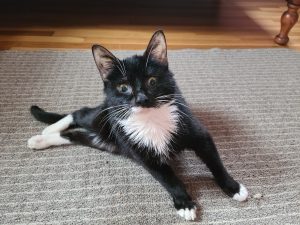 Dear Jude Friends,
Jude had a quiet month, which she needed after all her excitement of last month. She recovered from her trip to Tabby's Place and seems to have forgotten all about it.
Jude only had two seizures this month, and they were both on the same night. When the first seizure started it was around 2:30 am, and I shot to her side. The seizure passed after a few seconds. I waited to make sure she was ok, then went back to bed. About an hour later another seizure hit, and this one was bigger. I gave her the rescue medicine, and the seizure passed. I again stayed with her until I knew she was ok.  The next day she was pretty quiet and slept a lot, but was doing ok. By the following day, she was back to her usual self.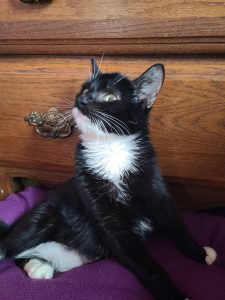 Jude is very happy we are having warmer days now, she loves it when I can open the windows in her room and let the spring breeze blow through. She lifts her little head up high, closes her eyes, and breathes in the fresh air. You can almost hear her saying "ahhhhhhhhhhhhh!" I love seeing her in those moments, so content and peaceful. Not much is peaceful about Jude (except when she is sleeping), so to see her relaxed and enjoying the breeze is a beautiful thing.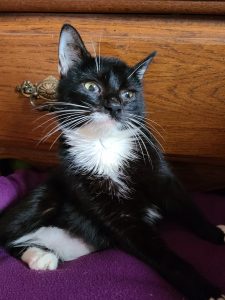 One day this month Jude had her turdy works (poop) stuck all over her fur. I got the lumps out (with her growling at me loudly), but it was no use… she needed a bath. I ran a nice warm bubble bath for her in the sink, laid out the drying towels for when the bath was over (I need to be prepared because she is not going to give me any time to get anything once I have her in my hands). Jude does NOT like getting a bath!
She immediately starts growling as soon as she feels the water, and the growling escalates the longer it takes to bathe her. She always thinks the bath is over as the water drains, and starts struggling to get down, but then back to growling when she remembers she has to get rinsed before she can get dried. After she is all done with the bath, and nice and clean, you can tell she feels much better. She hates being dirty, so she loves how clean she is after a bath. She just hates the process it takes to get clean.
We brought another forever foster home about a week ago, Oscar. Oscar was diagnosed with a very aggressive cancer and given 3-4 weeks to live, so I brought him home for whatever time he has left. He is loving being back in a home, and really loves all the attention and being spoiled. I don't know if he will make it into Jude's room, but he's very gentle, so I know he will be nice to her if he does go to visit her.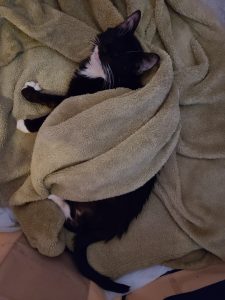 The other day I went to get Jude out of her playpen, and she had herself in a burrito with the blanket. It was so cute that I had to take a picture for you. She was all snuggled up in the blanket and looked so warm and happy with herself. I had to wait until she was done snuggling before I brought her out of the playpen for the day.
That's all the Jude news for now. As always, thank you all for your continued support of Jude, as we couldn't care for her without you.
Your correspondent,
Karina