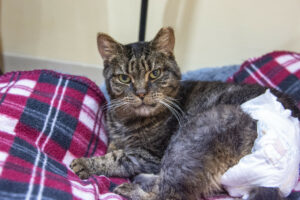 Dear Supporters of Boobalah,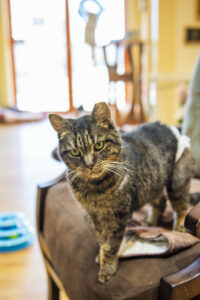 Kate's point of view:
Lucky me, I thought, when I was asked to continue to temporarily be Boobalah's correspondent.  I've written for a lot of cats at Tabby's Place over the years, but never have I fallen so fast for a cat, especially one I literally just met.
That realization spurred me forward to discover what it is about Boobalah that has made me so crazy about her? Sure, she's cute and has the prettiest of faces.
She can melt your heart away with her purr, but so can at least half the cats at Tabby's Place. She has this intense way of looking at you when she gets you in her radar that momentarily mesmerizes you, and I wondered, "Was that it?" The last time I was in the lobby, I spotted her cozied up in one of those tunnel-like cat beds.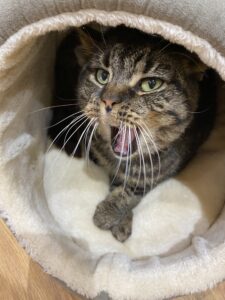 Her paws were crossed in the perfect pose as if she were being photographed for some glamour cat magazine. She peeked out. Her little round face and big eyes—all curious and yet all knowing at the same time—quickly scanned the situation before she hopped out and sashayed over to where I was standing.
Do you remember me? She smelled my hand. She rubbed up against my leg. And when I sat down on the closest chair, she stood on two legs so she could get a closer look.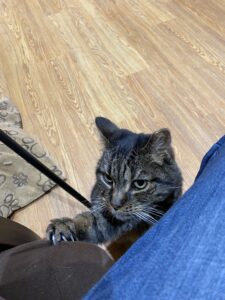 Well, come on, jump up if you want to. I patted my lap. Come on. I know you want to.
Boobalah's point of view:
I did want to. She smelled good, and I could tell she had some kind of cinnamon for breakfast because I could smell it all over her. I also liked the way she touched my fur and petted me. Some people are too rough. And some people hardly touch you at all. But she had a nice touch that made me feel good inside. So I jumped up—that was the easy part—and landed in her lap or should I say "cuddle." Because the second I landed, I was immediately cuddled and before I could stop myself and show some kind of self-control, I was purring.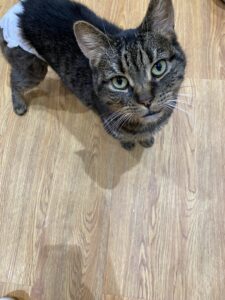 Kate's point of view:
That's when I knew why I was so taken with Boobalah. As she sat so contentedly on my lap, as she immediately began to purr, I realized then she reminded me of someone else. That faint chord of memory. And that was okay. I stayed with Boobalah as long as I could before I had to return to my volunteer job. As I crossed the lobby floor, I looked back and her little head tilted, in the same way as that other little furry girl that had spent so many years with me. Just for a moment.
Well, I rushed back and gave Boobalah one more hug. This is for you and for someone else, I said.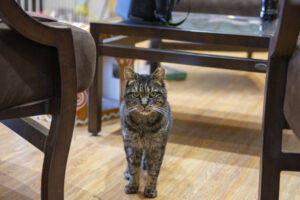 She nuzzled against my hand. I think she understood. And she is such a wonder—so happy and peaceful, despite the fact that this past month has not been an easy one for her. On the good side, her urinary tract infection cleared up, and the meds she was taking for a goopy eye worked wonders, and she was able to stop them by the end of December. But then Boobalah had bloodwork done before she had her remaining teeth removed, and an increase in her kidney disease was detected. So she was started on a potassium supplement to help her kidneys function. So far so good. Repeat bloodwork did show that the medication was helping to stabilize her values.
Boobalah and I thank you for your continued generosity to Tabby's Place. We wish you a wonderful start to the New Year, and hope to see you back here again next month.
Your correspondent,
Kate