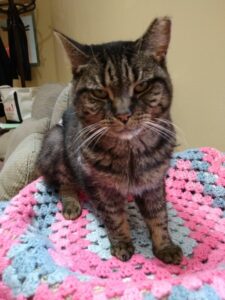 Greetings to You and to All of Boobalah's Friends,
Boobalah had a blast of a Halloween! Isn't she just the cutest alien you have ever seen? She probably couldn't wait to get out of her alien 'skin' and back to being sweet, loving, super friendly Boobalah!  Life is just so much more simpler and enjoyable that way.
It has been an interesting month here at Tabby's Place. Our Linda Fund Matching Challenge was a huge success! We raised the largest amount to date, and with Quinn's Corner opening soon, we will have even more kitties needing the care that the Linda Fund provides.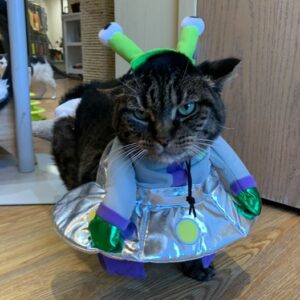 These are exciting times at Tabby's Place, as we are getting very close to actually moving into the new Quinn's Corner expansion. We are still awaiting a few final inspections for the certificate of occupancy, but plans are in place to start moving in soon.
We are also renovating the Community Room, whose feline residents are moving to other spaces temporarily so they don't paint the floors some interesting colors. We know they would!
In medical news, Boobalah developed another urinary tract infection this month and was started on a new round of antibiotics. She was also noticed to seemingly have an itchy ear, but luckily, there was no infection found. She received a good ear cleaning and that seems to have helped her quite a bit.  Boobalah also had an echocardiogram this month, which indicated no significant progression of her heart disease. This means that the medications she is on are doing what they need to do. That is super, fantastic, fabuloso news!!
As always, Boobalah and I, and everyone at Tabby's Place, thank you from the bottom of our hearts for all you do for this sweet girl. She is living her best life and dreaming that maybe one day a special person will come into her life and whisk her away. Until then, she knows that she can count on you.
Have a great month!
Your correspondent,
Donna