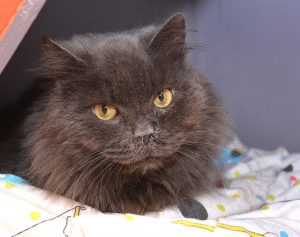 If you're looking for love and devotion, gaze down the years to a senior cat. Our golden oldies may not chase wand toys as nimbly as kittens, but they have a lifetime of experience in lavishing love.
We're blessed to have a sizable contingent of senior kitties at Tabby's Place at any given time. Since we rescue cats from hopeless situations at shelters and don't issue any restrictions based on age, high-volume shelters often send us the sweetest seniors in their care. While these older cats would struggle to find a home in a high-volume shelter, they gain a haven for life – plus the hope of adoption – when they arrive at Tabby's Place.
No one shows gratitude quite like an elderly cat, and the Tabby's Place seniors take their work of loving very seriously. Walk into our lobby, and you'll be accosted by a half-dozen cats over age 12, eager just to love and be loved. Give into their gentle charms, and it's a matter of moments before you're delighting in one another in an ocean of purrs. In their golden years, our senior cats have nothing left to prove, and only joy to give and receive.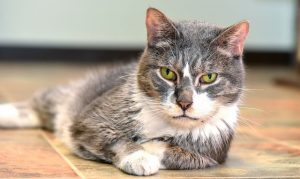 And so it is our privilege to give our elder statescats the extra medical care they need to remain healthy and comfortable. Senior felines are prone to a laundry list of conditions, including kidney disease, hyperthyroidism, arthritis, hypertension and cancer. Even otherwise-healthy senior kitties sometimes become perilously thin, so high-calorie prescription nutrition can keep them strong and sauntering through the years in comfort.
Tabby's Place's oldest cats are paragons of gentleness, grace and love. Since they are less likely to be adopted than their younger counterparts, Tabby's Place often becomes their forever home.
Will you offer them your affection as their sponsor? Every month, we'll send you an update on a different elderly kitty you're caring for. And every day, you can rejoice in knowing that you're making the world a little more golden for older cats in need.