Tabby's Place is a league of distinctive felines. From gerbil-sized gymnasts to calico dowagers, our cats are absolute individuals.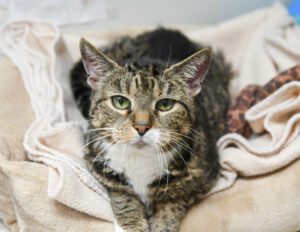 But one cat has the distinction of having the most distinctions.
Grecca is the single loudest cat at Tabby's Place, a title she has held over the years and airwaves. Many cats have impressive meows, but Grecca exceeds them all.
Give her bonus points for her commitment to her music. Like any self-respecting cat, Grecca can howl out a hootenanny if she's hungry. But even when her belly is full, Grecca splits the sky with bellows and birdsong, acid rock and opera. She sings because she's happy; she sings because she has opinions; she sings because you've entered the Lobby, which is an Event with a capital E.
Grecca is the single most ceremonious cat at Tabby's Place, a title you will understand on arrival. Step into her Lobby (that is not a typo; Grecca is also the single most possessive cat at Tabby's Place), and Grecca's greeting will make you feel like gold. The tiny tabby thunders her approval of your existence, shouting your name in her own private language. The lyrics grow louder until you pet her perfect head.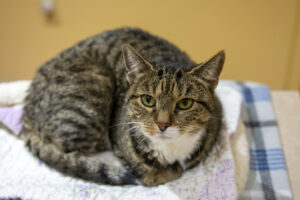 Grecca is the single most "Manhattan" cat at Tabby's Place. An alum of the city shelter, she has never fully adjusted to life in rural Ringoes, New Jersey. She thinks, moves, and even eats with Upper East Side speed. In her brown tweed coat and peridot eyes, she is wisecracking and warmhearted, silly and sophisticated in equal measure.
Grecca is the single most sensational cat at Tabby's Place. Do not argue with her on this.
To the careless eye, Grecca appears to be a "plain brown tabby." But if you're reading this, we hope you care about Grecca enough to know better.
So why has Manhattan's bawdiest little bagel not been adopted? Grecca also lives with a few more delicate distinctions.
It's a good thing Grecca's ego is bigger than her body, because her body has not always been kind. When she first arrived at Tabby's Place, she was battling mammary cancer and kidney disease. Surgery and chemotherapy conquered the former, although we continue to monitor her closely, years into remission.
Cranky kidneys are common in cats of a certain age, and Grecca's renal disease is controlled with daily medications and a hearty diet. She shrugs it off, reminding everyone (loudly) that she is a fine vintage.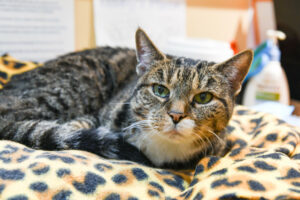 Life with Grecca is as bright as Times Square and as tuneful as Broadway. And the one thing Grecca loves more than "being Grecca" is you. If you keep her company while she eats, or stroke her sensational stripes, she'll devote herself to you forever…and remind you, often, at full volume.
Adopt Grecca
Start the application process now.