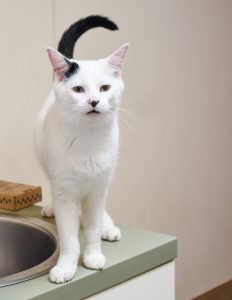 Like so many kittens born outdoors, Elliot had a challenging start to life. His litter was viciously attacked by something and he was the single survivor. During the attack, Elliot sustained some puncture wounds to his hind end. He was rescued in Southern New Jersey and given prompt medical care to treat his injuries. But this was just the beginning of Elliot's challenges.
At about 15 weeks of age, Elliot came to Tabby's Place. The injuries he sustained as a neonate, most likely, contributed to his partial fecal incontinence. When the little munchkin arrived at Tabby's Place, his hind end was painfully ulcerated from a combination of severe constipation and fecal scalding. In addition to tender loving social and medical care to heal his bottom, we had to find the right balance of food and medication to obtain proper stool for defecation.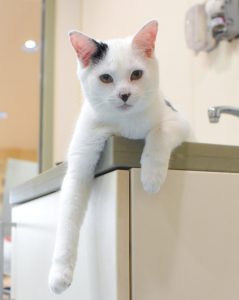 In Elliot's early weeks with us, we had to express his colon to prevent constipation, but now he is able to go on his own—he just doesn't always make it to the litter box. Elliot will position himself, but often gives up before producing anything while moving on to other activities, leaving physical evidence where it may fall. Elliot has visited an internal medicine specialist who encouraged us to move forward with our current protocol of diet and stool softeners to allow proper defecation. Elliot also has a pronounced overbite that we will monitor as he grows into adulthood. For now, it simply adds to his charm.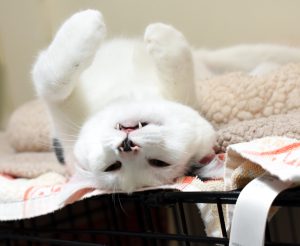 Elliot is a sweet boy who welcomes attention of humans and other felines. He loves to snuggle with other kittens and will play and tumble with joy and exuberance. As an elder kitten, Elliot has observed the comings and goings of many little ones. Elliot would love to find a cozy place to call his own. We understand that his elimination behaviors (Elliot urinates outside the litter box with alarming frequency) will make it a challenge for him to find a forever home.
Please consider sponsoring dear Elliot so he can thrive alongside his many friends at Tabby's Place.