You can't really blame the vet who gave up on Cisco.
The old cat looked dreadful. Was it his emaciated body that made him seem "too far gone"? Or perhaps it was the fact that Cisco's honey-brown fur was threadbare, courtesy of a raging case of ringworm.
Most likely, a single blood test sealed Cisco's fate. The weary old cat was FIV+.
FIV, or feline immunodeficiency virus, disables a cat's white blood cells, making him more vulnerable to infections. FIV+ cats can live long, happy lives. (One FIV+ Tabby's Place resident reached the ripe old age of 22.) But, in the eyes of some veterinarians – and most public shelters – a positive FIV test is often a death sentence.
As if Cisco's physical condition weren't bad enough, the bony old cat had endured dire circumstances. Cisco was one of 61 cats rescued from a tiny apartment. This history made the big-eyed old tabby wary of people. Anxiety was Cisco's default setting, and it would take time to restore his trust.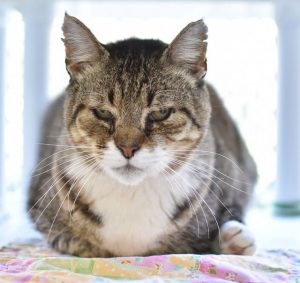 Given all the strikes against Cisco, who could blame the vet for suggesting euthanasia? Was there any other option for a cat like this?
Yes.
Just when it seemed like Cisco's book was about to be slammed shut, a page turned instead. Cisco's tale took a turn for the triumphant at Tabby's Place.
Tabby's Place is devoted to cats who have nowhere else to go, and Cisco could be the poster child for hopeless situations. We embraced our weary friend as soon as we learned of his circumstances. Together with twelve other cats from the apartment, Cisco found safety, stellar medical care, and true sanctuary at Tabby's Place.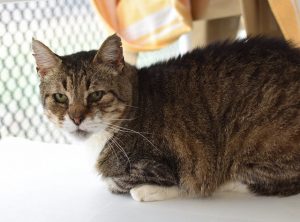 At Tabby's Place, he'll have a dozen feline friends in our FIV+ Suite, a bright, open room with its own sunny solarium. Our world-class veterinary team will attend to Cisco's needs, while our staff and volunteers will lavish him with unconditional love.
That love and stellar care will serve Cisco well as he enjoys his happy golden years at Tabby's Place. In his time with us, Cisco has developed diabetes, which we monitor with blood glucose checks and treat with insulin and a prescription diet. Cisco has also been especially vulnerable to ringworm, so we treat him with antifungal medication to prevent him from developing the frustrating fungus. Finally, Cisco suffers from occasional gastrointestinal distress, which we treat with anti-nausea medication.
We'll never give up on Cisco at Tabby's Place. In fact, we're hopeful that this brave old boy may yet be adopted. In the meantime, you can help us make up for Cisco's sad years with a life of love.