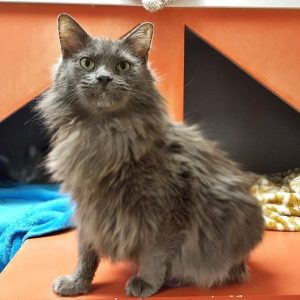 Mary is undoubtedly one of the sweetest cats at Tabby's Place. She is a beautiful and affectionate girl, with a medium-length dark gray coat and a small frame, which make you want to just pick her up and cuddle her endlessly.
Mary looks larger than she is because of her lustrous (and plentiful) soft fur. We believe she was born late in 2011.
Little Mary has a unique blend of mother-like and kitten-like qualities. Mary came to Tabby's Place from another shelter, where she was frequently employed as a foster Mother for kittens who came in without a Momcat. Even though she doesn't explicitly serve that role at Tabby's Place, she always seems to be right in the middle of a curled-up mashup of three or four shy-with-people cats. Mary provides what must be motherly comfort to them as they learn how wonderful humans can be. She is an excellent role model for her timid friends, because she loves people as much as she loves other cats, allowing us to pet and love on her. She lavishes us with love in return.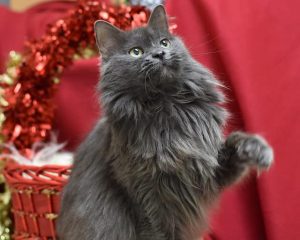 And yet, in a flash, Mary's kitten-like qualities surface as soon as a wand toy emerges. She is always the first to want to play, and vigorously at that. Jumping and rolling over and over like a kitten, tackling the toy no matter what or who might be in her way — you are bound to laugh out loud at the sight. Who knew that a gentle and caring "mothering" cat could also be this bundle of energy and kitten-like joy?
But Mary's past has given her a murky future when it comes to adoption.
Due to an old injury, this happy-go-lucky girl had her tail amputated. Though the tail would typically help us understand a cat's mood or desires, we really don't need that with Mary. She is quite happy to let us know what she wants and when she is ready for love or for playtime. The lack of a tail doesn't seem to slow her down even one tiny bit.
But Mary's injury had a less-adorable result, too. Mary is fecal incontinent; she cannot control when and where she goes to the bathroom. Unfortunately, there is no fix for this, nor any treatment to mitigate it.  Kitties with this issue are rarely adopted, as it takes a very special person to understand and care for a kitty who "goes" wherever she goes.
We help to keep Mary healthy and comfortable by "spot-cleaning" her bottom twice a day, and giving her a bath weekly. She enjoys a prescription diet, as she's otherwise prone to diarrhea. Mary also tends to get urinary tract infections as well as ear infections, which we treat as needed.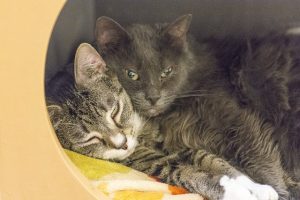 At Tabby's Place, Mary can live a long life, filled with much love, cuddling with other kitties, and amazing play time.  This intelligent beauty is happily settled into her suite, where she can continue her mothering ways while also enjoying the attention, love and play time bestowed by a whole host of staff and volunteers.
Your generosity in sponsoring Mary will make it possible for us to continue to care for Mary and provide her a home and Tabby's Place family for as long as she needs us.