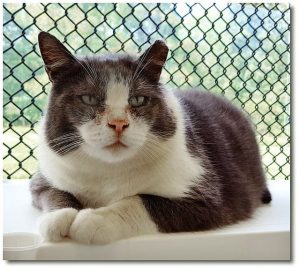 If Steiff doesn't yet have a cat in its teddy bear collection, Wolfie would make the perfect model. Can't you picture him as a plush toy in the arms of a child? Better yet, can't you imagine him in the arms of a loving adopter?
But one look at Wolfie tells you he's been through some rough times, including unpleasant encounters with other cats. His FIV+ status is probably the result of one such fight. Despite this, Wolfie has a nurturing nature, with many feline "cuddle buddies."
Wolfie did time as part of a free-roaming cat colony at the military prison in Ft. Dix, NJ. Fortunately for him, he was befriended by an inmate who shared his lunch with Wolfie. The inmate soon discovered that the way to Wolfie's heart was through his stomach. When the inmate learned he was to be transferred, he became concerned about the fate of the cats. He worked with his social worker to find a haven for the cats.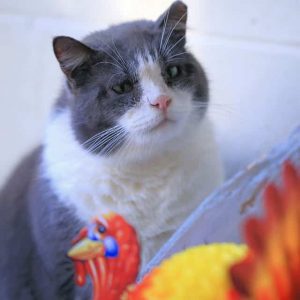 In 2013, Wolfie and three friends went to a central NJ shelter. Although he had recurring eye problems, Wolfie settled in and made great progress being socialized. However, on a bleak Thursday in February, his life changed forever. On a standard retest, Wolfie tested positive for FIV (feline immunodeficiency virus). Fortunately, two volunteers helped Wolfie find his way to Tabby's Place.
Tabby's Place's first order of business was addressing Wolfie's severe eye problem. Our vet team diagnosed Wolfie with entropion, a painful condition in which the eyelids are inverted. Wolfie received surgery to correct the problem.
Prior to this procedure, he frequently squinted, but now we can gaze right into his bright, beautiful eyes.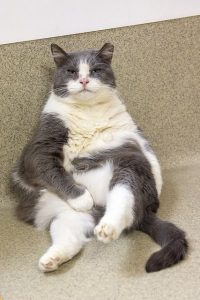 In addition to his FIV, Wolfie suffers from ear infections, which we treat with specially formulated medication from an allergist, and eye infections, which we treat with antibiotics as needed. Wolfie is also on a prescription diet and a gastrointestinal motility drug, as he occasionally suffers from severe constipation. Finally, Wolfie is on our regular "grooming list," as he needs a bit of extra help to stay clean and comfortable.
Despite Wolfie's medical woes, we are smitten with this boy. We remain optimistic that someone will be charmed by our chunky chap and carry him away to a loving home.
Until that day arrives, Wolfie has a home in our FIV Suite, where he'll receive lots of affection. Please sponsor this dear boy.