Charlie is like that big, fluffy stuffed animal you won at the carnival when you were a kid: just a little too big for you to carry, but you just can't bear to put him down. He loves nothing more than to be held like a big baby, or to climb into your lap and snuggle until you can snuggle no more. He will not be the one to stop the love fest. Gentle and calm, Charlie is waiting for that special someone with endless love to give.
Charlie came to Tabby's Place in November 2013, when a gentleman found him alone, skinny, and full of fleas and ticks in a junkyard. When the man tried to help this handsome grey stray, Charlie leaped into the man's car.
Upon his arrival at Tabby's Place, Charlie tested positive for feline immunodeficiency virus (FIV) and had a hemorrhage in his right eye. After we cleaned this poor boy up and gave him a few days of good food, we took him to the ophthalmologist, who removed his badly damaged eye. Charlie recovered nicely and started to gain much-needed weight.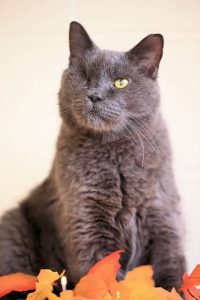 However, we quickly noticed that Charlie was drinking and urinating more than normal. His original blood work had been completely normal, but a urinalysis showed that he had a high level of glucose (sugar) in his urine. We repeated some of Charlie's blood work, which now confirmed that he was diabetic.
We immediately began insulin therapy. Charlie continued to put on weight, becoming the strong, healthy (and admittedly chubby) boy he is today. Along the way to his senior years, Charlie has also developed heart disease, gastrointestinal issues, and hyperthyroidism, which was successfully treated with I-131 radioactive iodine therapy.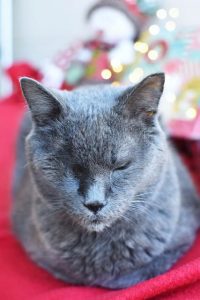 Due to all these diagnoses, Charlie is a proud member of our "Forever Foster" program, in which some of our most fragile cats live full-time with staff members or volunteers. This improves their quality of life while still promising the high level of care they need. It's the best of both worlds: Tabby's Place continues to provide and cover the costs of all Charlie's medical care, and Charlie enjoys a life of love with his own family.
Charlie's medical issues are formidable, but they don't dampen his delightful spirit. Your generosity will help provide all Charlie needs to thrive .
Will you please sponsor Charlie? As you help him flourish, he promises to bring his carnival joy to your heart.