Happy spring, team TNR!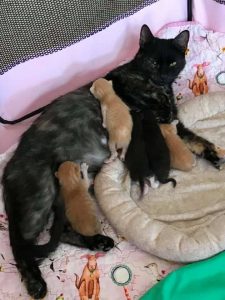 It's here now, real and full, and can the bounty of blossoms be far behind?
No…at least, not if, by "blossoms," you mean "newborn kittens."
You guessed it; the annual "harvest" has begun, and Tabby's Place is on the front lines of kittenpalooza. The practice of TNR aims to prevent as many free-roaming feline pregnancies as possible, but as long as there are unaltered cats out there, we'll be there for them — and their kittens.
This month, our TNR work led us to one very pregnant tortoiseshell girl. So "ready to pop" was lovely Laura that, within a week of her arrival at Tabby's Place, she was lovingly licking five healthy babies. Meet Dale, Cooper, Diane, Leland and Benjamin!
Life is supremely sweet for these little loves. It's always ideal if a kitten can grow up in the loving care of his feline mama, who can provide him with perfect nutrition as well as life lessons. One of the first places kittens learn not to bite is from mama, who will "discipline" them if they play too roughly! You can't treat mom's tail as a toy without consequences, and this helps little ones grow up to "play nicely" with feline and human friends alike.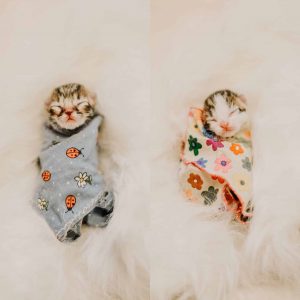 But life outdoors is perilous for nursing moms and their itty-bitties, so it's the best of all worlds for Laura and her littles to be at Tabby's Place. They are now in the watchful care of an experienced feline-family-fosterer (say that five times fast). This is the same stellar volunteer who fostered Talia and her tots last spring, so Laura and company are in the very best of hands.
Not all kittens are as lucky as this litter. Sadly, many feral mama cats get separated from their babies for one reason or another. That was the case for two newborn girls we named Calla and Dahlia. These little flowers were all alone, in the most  helpless stage of their lives. We're so grateful we were able to be there for them. One of our skilled staff members is tenderly fostering the newborns, encouraging them to take a bottle, keeping them clean and warm, and helping them to learn right away that this scary new world is full of love.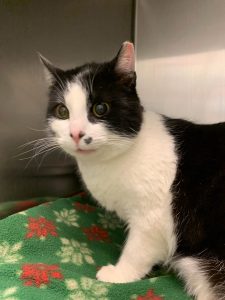 Of course, kittens are never the full story when it comes to TNR. Elsewhere in our adventures this month, we encountered Marsala, an extremely sweet girl with an extremely nasty wound. Her right hind foot had somehow become degloved, an injury that's as awful as it sounds, leaving her with exposed bone. Fortunately, we got to Marsala in time, and we're lovingly treating her infection and conducting frequent bandage changes. If she needs inspiration, she just needs to gaze down the hall to Pete, who is continuing to recover beautifully from his own wild wound.
Dear sponsors, TNR work calls Tabby's Place to care for the young and the old, the new and the weary. Through your generosity, you're here for every cat in our care, and I thank you from the depths of my heart.
Have a beautiful April, you beautiful souls!
Your correspondent,
Angela