Dear Supporters of Sammy,
Yay! June is finally here, and that means summer and all the glorious weather that summer brings!
And as you would suspect, there is never a dull moment in Sammy land!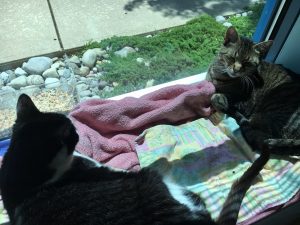 Imagine my surprise to discover that Pixie, that wondrously lovely and affectionate cat—who had an entire window shelf in the Community Room built and dedicated to her—was recently ADOPTED! How many times have I arrived at Tabby's Place, looking for Sammy, only to find her and Pixie in that very same window box, staring outside, watching the birds or the people come and go?
Now I know what you're wondering—will the box still be called "Pixie's box"? I have no idea, and frankly, I don't think it matters much. The other day when I came to visit Sammy, she was snuggled in the box as if it were her own!
But not for long, of course. Within half a minute, Sammy's purrs were amplified by another kitty's purrs. I'm not quite sure who it was—maybe Hunts.  Yes, I know you're thinking, "Wasn't he adopted last month?"  He was, but he was returned, so Sammy lost Pixie and regained Hunts, who hopped into the box, walked around for a bit, snuggled with Sammy, and settled down.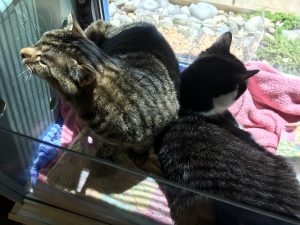 The best part for me is when they rub noses, because I imagine that a wealth of information passes between them:  "Hi, How are you? Okay. How are you? What have you been doing? Lounging around, watching the birds. How about you? I've been checking out the bowl near the water fountain. Some gourmet treats. Seen any interesting birds? A bluebird flew by, but that's about it. Yeah, it's a slow day. I'm about to take a snooze. Want to join me?"
I just love cats. When you pet them, and they purr, somehow I feel that all is going to be right with the world. Thanks, as usual, for your continued generosity to Tabby's Place, so Sammy and Hunts can continue their stimulating conversations!
Enjoy the lovely weather we've been having! 'Til next month.
Your correspondent,
Kate