In this life, things can shift quite suddenly…and for one lucky cat, very beautifully.
Shifty came to Tabby's Place kicking and screaming. We're a loving haven for all cats, but Shifty clearly didn't get that memo – or, he simply didn't care. Having lived outdoors without our help for many years, he had no interest in coming in from the cold now, and he did everything in his power to let us know.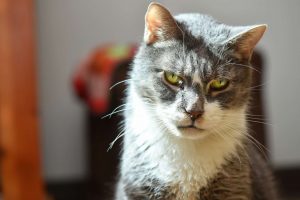 But the wary grey guy would have to make the shift to indoor life, like it or not. Severe dental disease had left him in agony, drooling and struggling to pick up food.
Our vet team diagnosed Shifty with feline chronic gingivostomatitis (FCGS), a highly painful, poorly understood disease in which the immune system overreacts to plaque and/or bacteria and actually attacks the cat's mouth. In Shifty's case, the agonizing inflammation extended all the way to his esophagus, and steroids failed to resolve his pain.
But, although he still felt otherwise, Shifty was in the right place. Tabby's Place promises each of our cats, "You will always receive everything you need to thrive, regardless of cost." We would do whatever Shifty needed to be healthy, happy, and pain-free.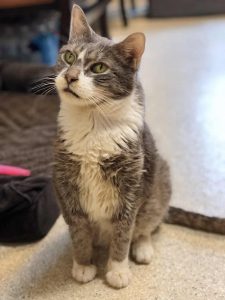 We shuttled Shifty to a world-class dental specialist for treatment. The dentist removed all of Shifty's remaining teeth and hidden root tips, as well as inflamed tissue, and smoothed down problematic areas of bone. At last, the brave old boy was out of pain. Ongoing steroid treatment would help to keep him comfortable, and we'd be as patient as Shifty needed when it came to human touch.
Through his dental drama, Shifty was also making some major shifts beneath the surface. As he began feeling better, the once angry, semi-feral cat began sampling human affection. To his surprise, love wasn't such a terrible thing…and once he got a taste, he became a bottomless pit.
To our gleeful astonishment, Shifty became one of the most affectionate cats at Tabby's Place, loudly demanding snuggles from anyone who entered his suite.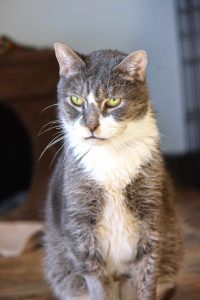 But Shifty's struggles weren't over. Steroid therapy was keeping him pain-free, but it came with the possible side effect of diabetes. Sure enough, Shifty became diabetic. And so, our handsome boy joined our diabetic suite – the Tabby's Place lounge – and began receiving insulin injections.
None of this ruffled our now-serene sweetie; in fact, it suited him just fine, as the lounge is always buzzing with human activity. All day, every day, Shifty now makes up for lost time delighting in hugs and kisses…and demanding treats at the top of his hilariously squeaky voice.
Shifty's diabetes has shifted into remission as of spring 2019, so we're currently able to manage his disease with diet rather than insulin. But, we know this situation can change at any time, and we'll be here to give him whatever he may need.
Shifty's life has shifted wildly in so many ways, but you can help give him lasting peace and good health. Your monthly donation will help provide all he needs to thrive. We promise he'll shift your heart to the heights of happiness.
Adopt Shifty
Start the application process now.